'Dope' Red Band Trailer #2: Shameik Moore Looks Like He Came Out Of A DeLorean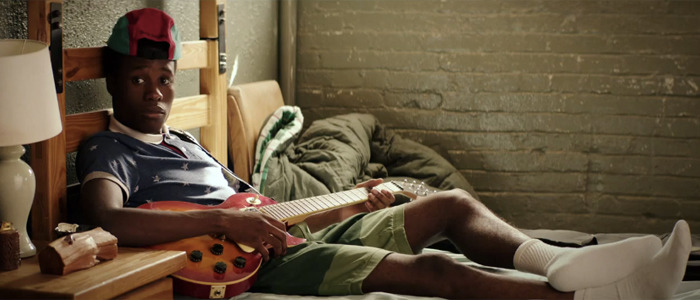 If it seems like we've been pushing a lot of Dope trailers the past couple months, that's because we firmly believe that everyone needs to see this fantastic indie teen comedy when it hits theaters starting next week.
The sensation from the 2015 Sundance Film Festival is a refreshing coming-of-age adventure from the inner-city, and it's the kind of indie we always hope to discover on the festival circuit. So here we are with a second red band trailer showing off the lively and fun film from writer and director Rick Famuyiwa. Imagine taking Superbad and setting it in tough, urban Los Angeles, and you begin to have an idea of what Dope is like, but it also stands on its own merits. Watch the second Dope red band trailer after the jump!
Here's the latest red band trailer for Dope from Open Road Films:
Shameik Moore is a breakout star in this flick, and this should be the start of a promising career for the young actor. Plus, the film also features a surprising turn from Tony Revolori after playing a young lobby boy in Wes Anderson's The Grand Budapest Hotel last year. Along with Kiersey Clemons, these three friends jam and bike their way through an adolescence as only the inner city of Los Angeles can deliver.
And the supporting cast is nothing to scoff at either with Zoe Kravitz making for a sultry love interest, Workaholics star Blake Anderson as a hilarious but surprisingly savvy drug dealer, and rapper A$AP Rocky creating problems for our trio of teens.
If you're still not convinced, watch the previous stylish teaser trailer, and the theatrical green band trailer which lays out the story a little more clearly. Or if you need more of the mature subject matter, you can still watch the first red band trailer right here. Trust me when I say that if you give this movie a chance that you won't be disappointed.
A critical hit and audience favorite out of the Sundance Film Festival, in Dope, Malcolm (Shameik Moore) is carefully surviving life in a tough neighborhood in Los Angeles while juggling college applications, academic interviews, and the SAT. A chance invitation to an underground party leads him into an adventure that could allow him to go from being a geek, to being dope, to ultimately being himself.
Dope hits theaters this month on June 19th.