Star Wars Bits: Battlefront, Secret Cinema, Virtual Reality, Disney Infinity, Weird Al And More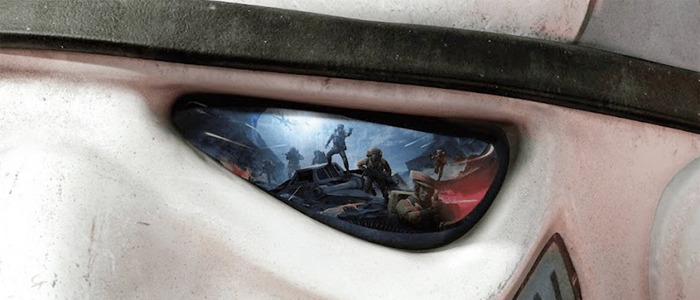 We may receive a commission on purchases made from links.
Reading Star Wars Bits ain't like dusting crops, boy. Here's what we have from a galaxy far, far away today:
The Force Awakens production designer at San Diego Comic-Con
Behind the Scenes of the Star Wars Weekends creative campaign
Details and cover art from deluxe edition of Star Wars Battlefront
Details on some tracks from The Force Awakens score
George Lucas and Kathleen Kennedy mourn passing of Christopher Lee
Weird Al Yankovic records an a capella version of his song Yoda
Secret Cinema's Empire Strikes Back event is now open
Star Wars Rebels characters join Disney Infinity 3.0
Rumored details on locations, aliens and more in Star Wars: Rogue One
New shots of Star Wars: The Force Awakens Black Series Stormtrooper
Industrial Light & Magic working on Star Wars virtual reality experience
Header image: Star Wars Battlefront cover art. See it in full below!
We've already heard that Star Wars: The Force Awakens will have a huge presence at Comic-Con with a panel in Hall H, but that's not all that Star Wars fans will get at the convention. The Force Awakens production designer Darren Gilford will be part of The Art Directors Guild panel that will happen at Comic-Con on Saturday, July 18th at 12:30pm Pacific Time. For more details, check out the full press release at Star Wars Underworld.
Have you seen this Star Wars Weekends TV spot? Check out a little glimpse behind the scenes right here.
Here's the deluxe edition cover art for the new Star Wars Battlefront video game: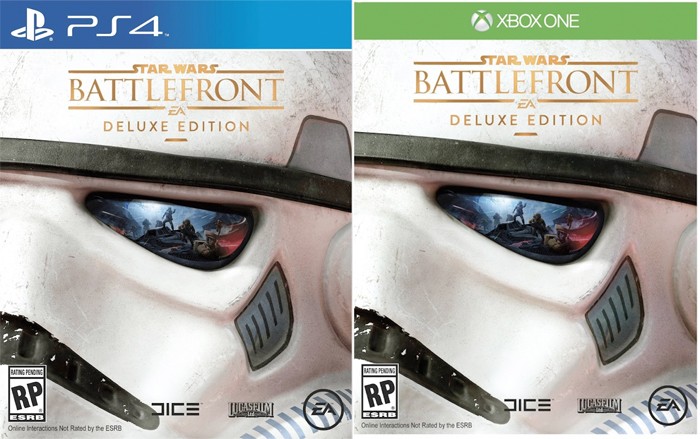 The deluxe edition of the game is now listed on Amazon, and the details on the game reveal some of the exclusive add-ons that fans who buy this version will get with the game. Some of the goodies include use of Han Solo's DL-44 blaster, an ion grenade that sticks to vehicles, an ion torpedo launcher, and more. For more details on these deluxe edition add-ons, check out the listing at Amazon right here. A new screenshot from the game has also emerged, and you can check it out at Star Wars Underworld.
Some details about John Williams' new score for Star Wars: The Force Awakens have surfaced. There's some spoiler-ish details in talking about some of the themes for our heroes and the First Order, so be wary if you decide to check out the whole scoop over at MakingStarWars.net right here.
Both George Lucas and Kathleen Kennedy mourn the passing of Star Wars prequels villain Christopher Lee (via Jedi News). Kathleen Kennedy says:
"Christopher brought a grace and gravitas to the many roles he's played over a rich and expansive career. His performance as Count Dooku in Episodes II and III remains a highlight of the Star Wars saga, and we have been so privileged and honored to count him among our family. Christopher was a gentle soul and deeply adored by fans, and we will miss him dearly."
George Lucas was more brief saying:
"Christopher was a great British actor of the old school. A true link to cinema's past and a real gentleman. We will miss him."
Parody recording artist Weird Al Yankovic recorded a new a capella version of his Star Wars inspired song Yoda at Jack White's Third Man Records in Nashville, Tennessee. Check it out here (via Uproxx):
Secret Cinema's special Empire Strikes Back event is now underway in London: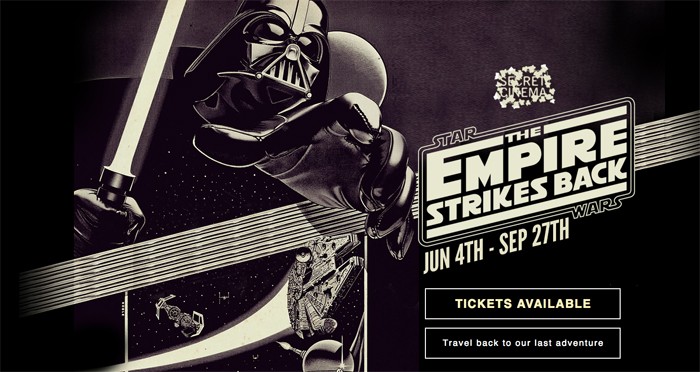 You can see some images from the set of the event at StarWars7News.com, and if you want tickets click the image above, or go to SecretCinema.org right here.
Star Wars Rebels characters will be part of Disney Infinity 3.0, and here's a first look: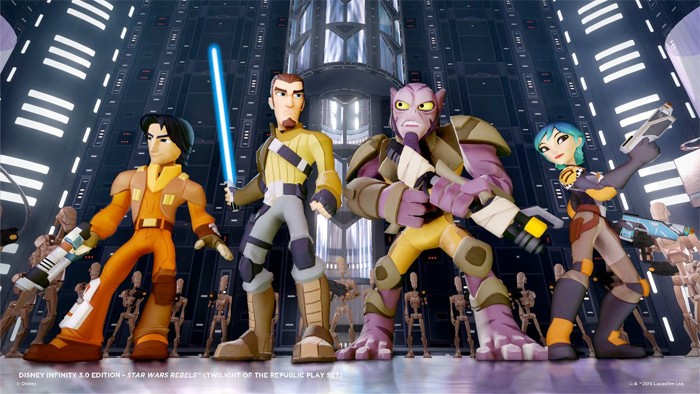 Check out more images of Kanan Jarrus, Ezra Bridger, Sabine Wren, and Zeb Orrelios in Disney Infinity at ComingSoon.net. The new version of Disney Infinity, which will also include Luke Skywalker, Princess Leia Organa, Han Solo, Chewbacca, Darth Vader, Obi-Wan Kenobi, Yoda, Anakin Skywalker, Ahsoka Tano, and Darth Maul, will arrive this fall.
High-resolution shots of the Star Wars: The Force Awakens Black Series Stormtrooper figure have surfaced: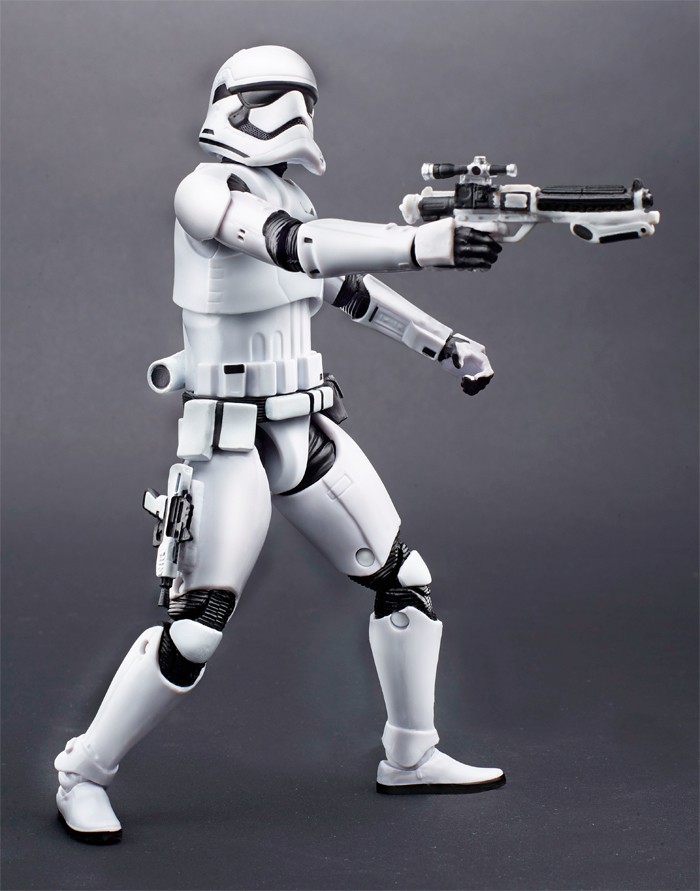 Check out the rest of the close-upimages at RebelScum.com over here.
New rumored details on Star Wars: Rogue One have surfaced at JoBlo.com. There's nothing super spoiler-ish in the details, and some of them are no-brainers (like new aliens and droids being introduced and familiar Rebel ships appearing), but we'll let you decide if you want check out the list of details yourself over here.
Finally, Industrial Light & Magic is working on a virtual reality Star Wars experience (via Variety):
Industrial Light & Magic (ILM) and parent company Lucasfilm, Ltd. announce the formation of ILM Experience Lab (ILMxLAB), a new division that will draw upon the talents of Lucasfilm, ILM and Skywalker Sound. ILMxLAB combines compelling storytelling, technological innovation and world-class production to create immersive entertainment experiences. For several years, the company has been investing in real-time graphics – building a foundation that allows ILMxLAB to deliver interactive imagery at a fidelity never seen before. As this new dimension in storytelling unfolds, ILMxLAB will develop virtual reality, augmented reality, real-time cinema, theme park entertainment and narrative-based experiences for future platforms.
Right now this is just an exploration of virtual reality and how it can intersect with the world of Star Wars, but with the rise of things like Oculus Rift, this is something that will undoubtedly be realized sooner than later. As you can see from the video, the test explorations are using iPads and Oculus Rifts to explore Tattooine with C-3PO and R2-D2, not to mention piloting an X-Wing. If they can figure out how to get this technology into the hands of fans for an affordable price, it would be a huge success.
That's it for Star Wars Bits for now. Stay tuned for more soon.