Sequel Bits: 'Independence Day 2', 'Jurassic World', 'Goon 2', 'Avatar 2', 'Wet Hot American Summer'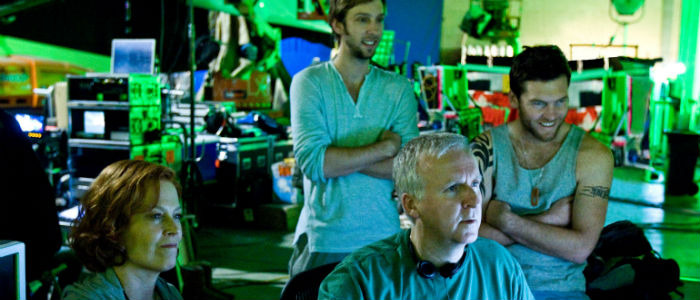 Lots of casting notices, plus fresh plot details and a new spin on an old score. After the jump:
Gbenga Akinnagbe joins Independence Day 2
Colman Domingo will Fear the Walking Dead
Cristine Rose will return for Heroes Reborn
Wyatt Russell is on board for Goon 2
Fuller House will give Danny a hot new wife
Open Season is getting yet another sequel
Get more details on Netflix's Wet Hot prequel
Fox CEO addresses the delayed Avatar sequels
Thomas Tull gets a chunk of Jurassic World money
Listen to Michael Giacchino's Jurassic World score
***
Colman Domingo has found a recurring role on Fear the Walking Dead, AMC's prequel / spinoff of The Walking Dead. He'll play Strand, described as "a smart and sophisticated man with a mysterious past." Domingo's previous credits include Lincoln, Selma, and Lee Daniels' The Butler. Fear the Walking Dead premieres later this year on AMC. [Deadline]
***
Heroes Reborn's roster of returning cast members continues to grow with the addition of Cristine Rose, who played Angela Petrelli in the original series. She joins fellow Heroes stars Sendhil Ramamurthy, Greg Grunberg, Jimmy Jean-Louis, Masi Oka, and Jack Coleman. Heroes Reborn airs this fall on NBC. [TVLine]
***
Goon: Last of the Enforcers is bringing in some fresh meat. Wyatt Russell (22 Jump Street) is set to star in the film as Anders Cain, a hotheaded hotshot who becomes captain of the Halifax Highlanders when a lockout sends a bunch of pro hockey players down to the minors. The sports comedy sequel shoots this summer with Jay Baruchel directing. [Deadline]
***
Concerned about the state of Danny Tanner's sex life? Fear not. Fuller House is currently casting for the role of his new wife Teri, an attractive and lively younger (40) black woman who has "quite an appetite for Danny and isn't afraid to shower him with affection."
Also doing just fine in that department is Kimmy. The production is looking for someone to play her "inappropriately passionate" ex-husband Fernando, who wants to get back together. [TVLine]
***
Click through for new details on Wet Hot American Summer: First Day of Camp, the Jurassic World soundtrack, and more.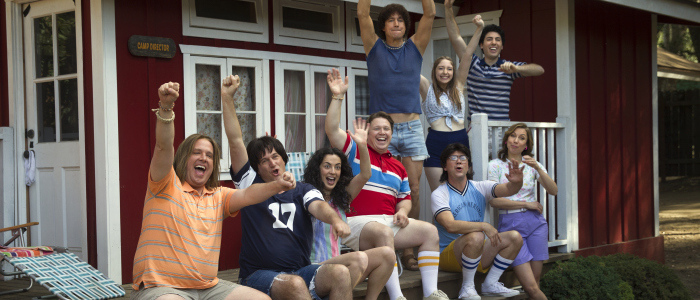 Open Season is getting yet another sequel, its third. Titled Open Season: Scared Silly, it'll center on grizzly bear Boog's fear of the Wailing Wampus Werewolf, rumored to haunt the Timberline National Forest. While the original Open Season opened in theaters in 2006, all of the follow-ups including Scared Silly have been direct-to-video affairs. Look for it to hit home video next spring. [Cartoon Brew]
***
Wet Hot American Summer: First Day of Camp brings back all your favorite Camp Firewood counselors, but now we have details on some of the new characters as well. Josh Charles, Kristen Wiig, and Rich Sommer are playing the preppy counselors of rival camp Tigerclaw. Lake Bell is Coop's girlfriend Donna, and returning star Michael Showalter has a new role as an Israeli soccer counselor who threatens to come between them. Wet Hot American Summer: First Day of Camp premieres July 31. [EW]
***
Once upon a time Avatar 2 was scheduled to open in December 2014. But one deadline after another has gone by, and now it's set for late 2017. "Jim Cameron has his own pace," said chairman-CEO Jim Gianopulos. "All the pieces are in place. The story is being finalized."
Gianopulos described a recent visit to Cameron's New Zealand offices:
It's a room ... which is covered floor to ceiling with images, characters, worlds, settings. It's the most amazing, breathtaking thing you've ever seen. His challenge is to put all of that in a movie.
Avatar 2 hits in 2017, followed by Avatar 3 and 4 in 2018 and 2019. In theory, anyway. [Variety]
***
Legendary's Thomas Tull will take a T. Rex-sized bite out of that sweet Jurassic World dough. Thanks to Legendary's co-production and co-financing deal with Universal Pictures, he'll get a 25% cut of the box office. Not every studio would be willing to share their haul from such a lucrative franchise, but one analyst suggests it's a good way to "build a strategic partnership" while another points out that letting Tull in allowed Universal to share the risks as well as the profits. [Variety]
***
Recreate the experience of being wowed, and then menaced, by revived prehistoric predators with Michael Giacchino's full score for Jurassic World, available now online and in stores. Giacchino certainly has big shoes to fill considering John Williams created the iconic score for the original Jurassic Park, but here's hoping he's found a way to put his own special spin on things.
Jurassic World is in theaters now. [The Playlist]