Jeremy Renner Reveals 'Captain America: Civil War' Promo Art: Whose Side Are You On?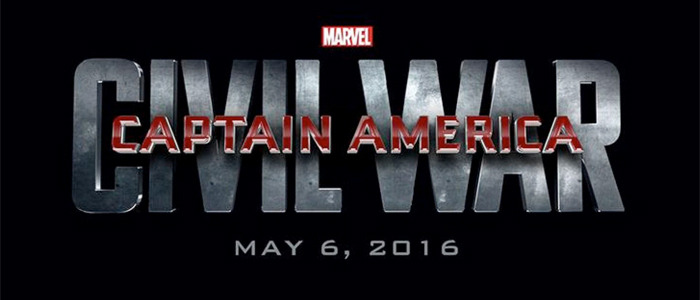 Production is underway on Captain America: Civil War right now down in Atlanta, Georgia, and with a whole bunch of The Avengers (new and old) on the cast roster, it's safe to say we can expect a pretty massive flick. And while the movie doesn't arrive until May 6th, 2016, one of the cast members is wasting no time driving a wedge between our superheroes.
Jeremy Renner, who plays the skilled archer and former S.H.I.E.L.D. agent Clint Barton (aka Hawkeye), took to Twitter yesterday with a little welcome card that teases the coming battle between Tony Stark (Robert Downey Jr.) and Steve Rogers (Chris Evans). Check out the Captain America: Civil War promo art after the jump!
Here's what Renner posted to Twitter yesterday:
What do you say? What side are you on? #avengers #civilwar #captainamerica #ironman #marvel pic.twitter.com/aKKwuYR9mY

— Jeremy Renner (@JeremyRenner) June 12, 2015
It's nothing fancy, that's for sure. In fact, if you go look around around online, you'll find much more impressive fan art with the same "Whose side are you on?" tagline being utilized with much better artwork. But since this is merely a wish of good luck by Marvel to Renner on the set of the sequel, we wouldn't expect anything mind-blowing. Surely the marketing department will be cooking up something that will have fans taking sides before the year is out.
So far we don't know a huge amount about Captain America: Civil War, but we do have this official synopsis:
"Captain America: Civil War" picks up where "Avengers: Age of Ultron" left off, as Steve Rogers leads the new team of Avengers in their continued efforts to safeguard humanity. After another international incident involving the Avengers results in collateral damage, political pressure mounts to install a system of accountability and a governing body to determine when to enlist the services of the team. The new status quo fractures the Avengers while they try to protect the world from a new and nefarious villain.
So the people and the government put pressure on The Avengers in an effort to hold them accountable for the destruction and death that ends up being caused while they're saving the world. But that doesn't mean they don't want to use them to keep policing the world. This is the conflict that results in Tony Stark and Steve Rogers coming to blows with the rest of The Avengers forced to choose whose side they're on.
The biggest question now is who ends up agreeing that The Avengers need oversight and accountability? This is a much different battle than what we saw in the Civil War storyline in the comic books, so it's hard to tell whether it'll be Rogers or Stark who will decide that The Avengers need some serious supervision.
Even though this isn't official artwork, I hope the marketing department ends up forcing fans to choose which side they'll be on before the movie arrives next summer. And then eventually, we'll see where the rest of our heroes stand as well.
Scarlett Johansson, Anthony Mackie, Frank Grillo, Sebastian Stan, Elizabeth Olsen, Paul Bettany, Don Cheadle, Emily VanCamp, William Hurt, Daniel Bruhl, and Martin Freeman also star in Captain America: Civil War, directed by Anthony & Joe Russo (Captain America: The Winter Soldier), and the film arrives on May 6th, 2016.