First Look: Dwayne Johnson Is A Childlike Contract Killer In 'Central Intelligence'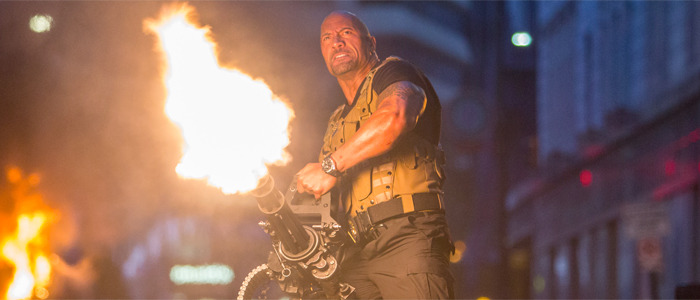 Dwayne Johnson is having a hell of a year, with Furious 7 and San Andreas already behind him and his new HBO show Ballers ahead of him. And we're hoping his winning streak will continue into 2016 with Central Intelligence, from Dodgeball and We're the Millers director Rawson Marshall Thurber.
The new comedy stars Johnson as Bob, described by Johnson as "Tom Hanks in Big with an added twist." The twist being that sweet, simple Bob is a super intelligent, extra deadly CIA contract killer. Get your Central Intelligence first look after the jump.
Johnson shared the first photo of himself in Central Intelligence on Instagram, along with a detailed description of his character Bob.
In Central Intelligence, Kevin Hart plays an accountant who was a big deal in high school. As the class reunion approaches, he's contacted by a former classmate, Bob (Johnson), who was picked on back in the day. The former "loser" is now a CIA contract killer, and he gets Hart's character involved in a plan to stop a sale of classified military secrets.
Johnson and Hart should make for a pretty funny pairing. Buddy comedies are kind of Hart's thing (see also: Ride Along, The Wedding Ringer, Get Hard) and Johnson is the kind of charismatic performer who seems to have great chemistry with everyone. It's also nice to see Johnson in a straight-up comedy, as he can be very funny when he wants to be.
Ike Barinholtz and Dave Stassen wrote the original script for Central Intelligence, which has since been reworked by Sean Anders and John Morris, Peter Steinfeld, and Thurber himself. The project has been kicking around since 2009, when Ed Helms was attached to Hart's role. Helms now serves as executive producer.
Also starring in Central Intelligence are Amy Ryan as a CIA operative going after Bob, and Danielle Nicolet as Hart's childhood sweetheart and now wife. Only Johnson appears in this first-look photo, sadly, but there's still plenty of time to get better looks at all of the other characters.
Warner Bros. has Central Intelligence in theaters June 17, 2016.