Is There A 'Transformers' Cameo In 'Teenage Mutant Ninja Turtles 2'?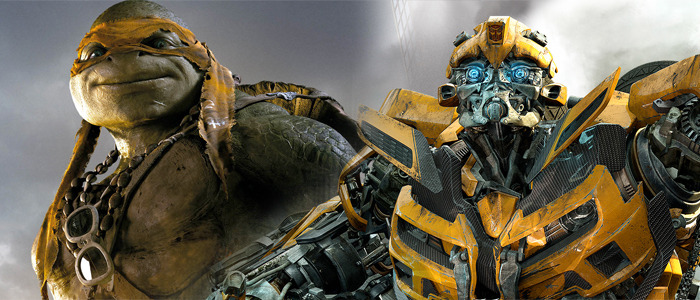 Ever since Marvel Studios launched their cinematic universe, other studios have been desperate to replicate its success. Many are trying to turn their most valuable properties into more expansive franchises with spin-offs and more. For example, Paramount Pictures is currently working on creating a much bigger Transformers universe, with the potential for a spin-off starring Bumblebee.
And you may not have thought about this previously, but Paramount Pictures also distributes the new Teenage Mutant Ninja Turtles, which is produced by Michael Bay, director of the Transformers movies. Is there a chance that these two sets of heroes inhabit the same world and we'll see a Teenage Mutant Ninja Turtles 2 Transformers cameo? Find out after the jump!
According to ComicBook.com, the Autobot known as Bumblebee will pop up in Teenage Mutant Ninja Turtles 2. However, don't expect to see a towering Transformer meeting our heroes in a half-shell. That's because the Bumblebee cameo is nothing more than someone wearing a Transformers costume in the middle of the Halloween parade that the turtles end up walking through.
Here's a glimpse of production in New York City from some on-lookers posting to Instagram, including the interaction between Michelangelo and Bumblebee during the parade:
In the scene in question, a little yellow vehicle rolls up to Michelangelo (Noel Fisher) and transforms into Bumblebee. It's one of those cool costumes that can be situated into an actual rolling vehicle, so don't expect any fancy visual effects or anything like that. And it wouldn't be effective cross-promotion if the two didn't high-five in the scene in question.
Even though this is nothing more than an easter egg, as opposed to a cameo by a full-fledged Autobot, it does make me wonder if Paramount will ever get to the point that they start crossing over their franchises. While a merging of Teenage Mutant Ninja Turtles and Transformers doesn't seem like the best idea, I wouldn't be opposed to the Transformers meeting Paramount's other toy-based franchise, G.I. Joe. Those two teams could work together pretty well, and they already have a basis for the crossover in comic book form, so it's not completely out of left field.
Anyway, even without a cameo from the real Bumblebee, Teenage Mutant Ninja Turtles 2 is going to be pretty packed with characters. Rocksteady and Bebop will be popping up, played by WWE superstar Sheamus and Gary Anthony Williams respectively. Plus, we'll also see Stephen Amell as Casey Jones and Tyler Perry as Baxter Stockman. There's even been rumblings of Krang being involved in the sequel somehow. That's a lot of goodies for TMNT fans, but considering how disappointing the first movie was, the sequel really has to do some damage control.