Darth Vader Hunts Our Heroes In Star Wars Rebels Second Season Premiere Teaser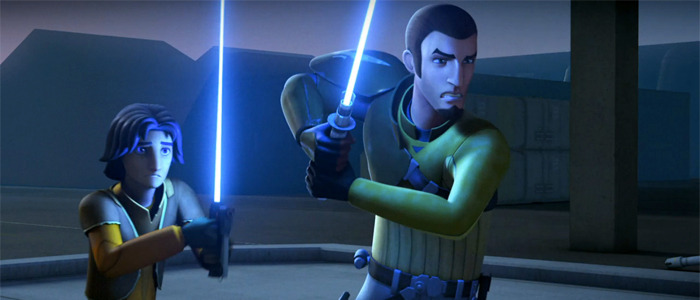 The premiere of the second season of Star Wars Rebels is just a couple weeks away. We've already seen the season premiere thanks to Star Wars Celebration (check out our video blog from afterwards here), but everyone else has been waiting patiently. And now we have a new tease of the second season's one-hour first episode, The Siege of Lothal.
It looks like Darth Vader is going to play pretty prominently, at least in this first episode, as he's been dispatched by the Emperor to hunt down our heroes. Watch the Star Wars Rebels second season premiere teaser after the jump!
Here's the Star Wars Rebels teaser, originally from Disney:
This is just a tease of the season premiere, but don't forget that we previously saw a much longer trailer for the whole season. This forthcoming second season looks like it's really going to amp things up, making the Empire an even more powerful force to be reckoned with. It only makes sense since this will chronicle their rise to dominance before the original Star Wars trilogy would begin.
Will we see other characters from the original Star Wars trilogy pop up in this season? Only time will tell, but it's probably a good guarantee that we'll see more than Darth Vader popping up this season. After all, the first season had C-3PO, R2-D2 and Lando Calrissian, just to name a few.
There's also the chance for some prequel or Clone Wars characters to return as well. We've already seen Bail Organa and the return of Ahsoka Tano, so anything can happen. And don't forget that we've heard that there's a chance some of the characters from Star Wars Rebels could actually end up crossing over into the live-action films. And we know that the show has at least some impact on what may happen in the franchise since it's already changed Star Wars history a bit.
Otherwise, there's also some new characters who will be entering the fray, with Sarah Michelle Gellar taking a big voice role this season. We're not sure who she's playing yet, but it'll be interesting to see how her character ends up engaging with Kanan, since the Jedi is voiced by Gellar's real-life husband Freddie Prinze Jr.
If you want to find out some more about the second season of Star Wars Rebels, check out our interview with executive producer Dave Filoni right here, and go watch the full second season trailer again.
The second season of Star Wars Rebels premieres on Disney XD at 9pm Eastern on June 20th.