'We Are Still Here' Trailer: The Darkness Is Everywhere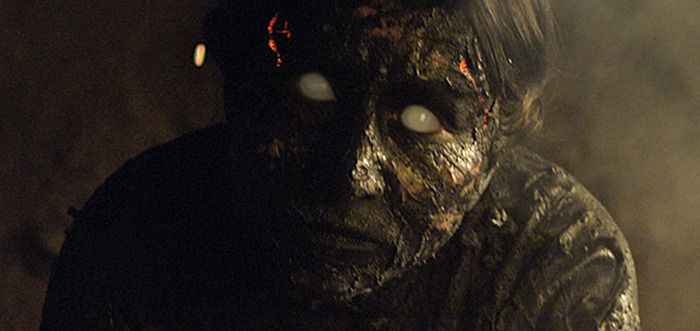 Riding a wave of good festival showings and positive reviews, the horror film We Are Still Here begins to hit theaters and VOD this weekend. Ted Geoghegan made the film as his directorial debut, and the story follows a couple as they attempt to put a traumatic loss behind them by moving to a nice house out in the New England countryside. But the house has secrets, and it hungers. There's clearly a vein of humor that runs through this one, alongside inspiration from Lovecraft and some other weird fiction. Check out the new We Are Still Here trailer below.
We Are Still Here is in some theaters and on VOD beginning today, June 5. Trailer via Dark Sky Films.
After the death of their college age son, Anne and Paul Sacchetti (Barbara Crampton and Andrew Sensenig) relocate to the snowswept New England hamlet of Aylesbury, a sleepy village where all is most certainly not as it seems. When strange sounds and eerie feelings convince Anne that her son's spirit is still with them, they invite an eccentric, New Age couple (Larry Fessenden and Lisa Marie) to help them get to the bottom of the mystery.
They discover that not only are the house's first residents, the vengeful Dagmar family, still there – but so is an ancient power. A primal darkness slumbers under the old home, waking up every thirty years and demanding the fresh blood of a new family. An altogether new take on the haunted house genre that deftly mixes human drama and comedy, WE ARE STILL HERE is a couple's terrifying journey through darkness and loss set against the freezing New England winter.