99 Homes Trailer: Andrew Garfield Loses His House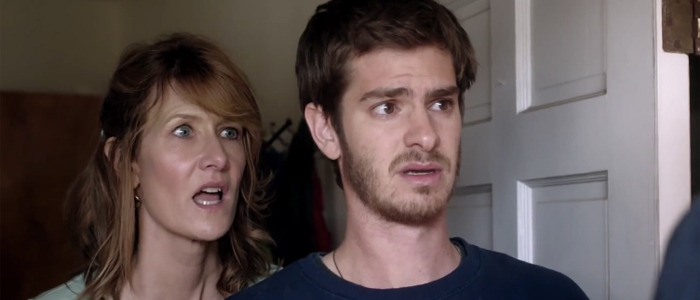 After losing the role of Spider-Man (though we don't know to who just yet), it appears the bad luck is continuing for Andrew Garfield in the trailer for the Sundance selected indie drama 99 Homes. The film made our Best of Sundance list back in January, and it's slated to arrive in select theaters this fall.
Now you can see what all the buzz is about in the powerful trailer for the film that also stars Michael Shannon and Laura Dern. Watch the 99 Homes trailer after the jump!
Here's the first trailer for 99 Homes, originally from Yahoo:
Sadly, this was one of the films that I missed at the 2015 Sundance Film Festival (there's always some that slip through the cracks). But our own Peter Sciretta caught the film and said, "99 Homes does for the economic crisis what Oliver Stone's Wall Street did for the world of stockbrokers." In addition, he also said, "Garfield delivers an amazing vulnerable performance in this tense moral drama." Making this even more harrowing of a drama, this is all based on real events.
And judging by the trailer, it looks like Michael Shannon delivers another stirring performance as the heavy. He's destroying people's lives, but without annihilating entire cities like in Man of Steel. But considering that the plot of this movie is something that can happen in the real world makes it that much more threatening.
With an early fall release, there's a chance this could be on the radar for awards season, but only time will tell. It's certainly a timely story taking a look at the real tragedy some families faced over recent years, losing their homes, all so someone else can make a killing and get some extra cash in their pocket.
Here's the official description of 99 Homes from Sundance:
Set amidst the backdrop of the 2008 housing market catastrophe, Dennis Nash (Andrew Garfield), a hard-working and honest man, can't save his family home despite his best efforts. Thrown to the streets with alarming precision by real estate shark Mike Carver (Michael Shannon), Dennis, out of work and luck, is given a unique opportunity—to join Carver's crew and put others through the harrowing ordeal done to him in order to earn back what's his. Delicately training his eye on the rigorous details, the reliably astute Ramin Bahrani imbues his characters with icy complexity to achieve his compassionate portrait of a man whose integrity has become ensnared within an all-too-relevant American crisis. With precision and care, Bahrani's provocative character study applies all the cinematic tools at his disposal to explore the ethical dilemma at the heart of man's struggle to reach higher—by whatever means necessary.
Ramin Bahrani (Man Push Cart, Chop Shop, At Any Price) directs the film which hits select theaters September 25th.