LOL: 'Mad Max: Fury Road' Inspires Chrome Spray Glory On Amazon And Doof Warrior Sheet Music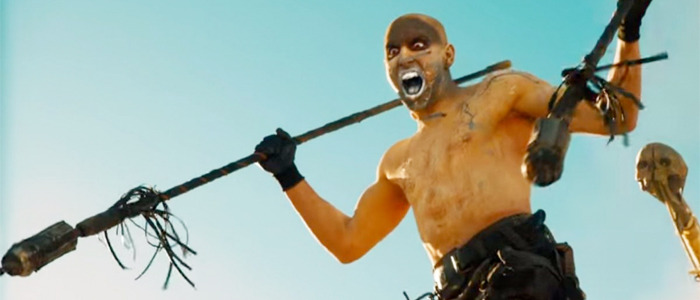 We may receive a commission on purchases made from links.
Another day has come, and even more craziness has surfaced on the internet in honor of Mad Max: Fury Road. We've already seen some custom LEGO vehicles inspired by George Miller's non-stop desert chase, not to mention a mash-up with Mario Kart, and an even stranger but perfect mash-up with The Unbreakable Kimmy Schmidt.
But now the glory of Mad Max: Fury Road is starting to seep into the real world. First up, the War Boys have taken to Amazon.com with over-excited reviews of an edible chrome spray (It's not official Mad Max chrome spray, but it's still a lovely spray). In addition, some skilled musicians have put together some intricate sheet music that will allow you to riff on the guitar just like the beloved Doof Warrior.
Being your journey to Valhalla after the jump!
For those who aren't creative bakers or cooks, you may not know that there are edible color sprays out there made for decorating desserts. And it just so happens that Wilton's Silver Color Mist has caught the affection of a group of internet-savvy War Boys who couldn't be more excited to be witnessed, all shiny and chrome, with the glory of this chrome spray all over their face. Here are some of the reviews that began popping up on Amazon (via Uproxx) a few days after Mad Max: Fury Road hit theaters: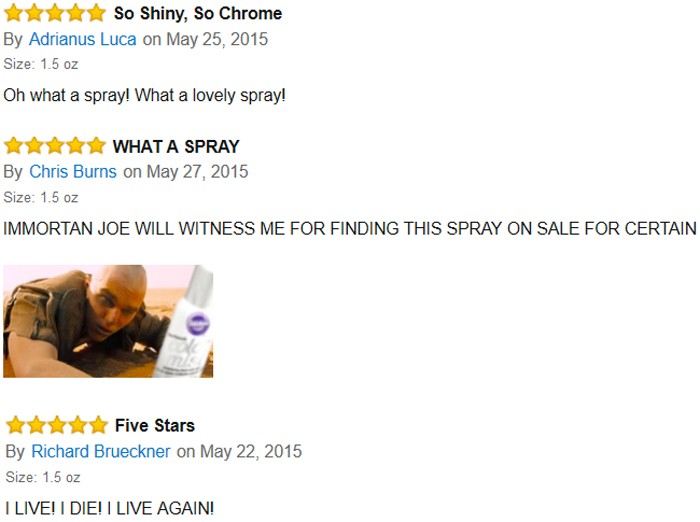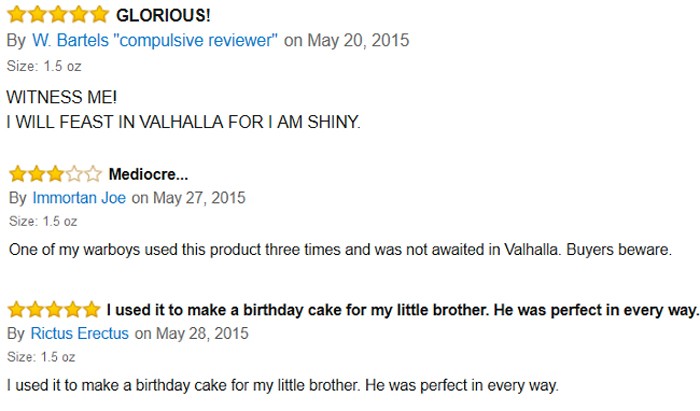 And that's not all. Some of the War Boys apparently didn't buy into the guarantee of heading to Valhalla, and had to ask about the product. The seller clearly didn't get the joke, but plenty of users were able to step in and give the answers they needed: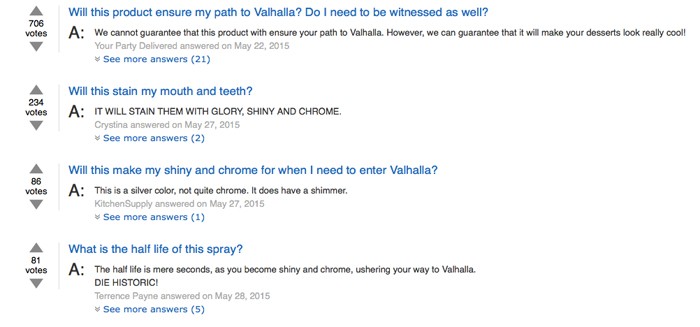 But if glorious chrome isn't what you're looking for, maybe you're looking for some Doof rock. By now everyone has heard plenty of chatter about the Doof Warrior wielding a flamethrowing guitar in Mad Max: Fury Road, and word on the street is that the character already has an official backstory that's been written. But fans might be more interested in the music that the Coma-Doof Warrior (played by Australian musician iOTA) belts out into the desert, flames and all. If you don't remember what that sounds like, take a listen:
Thankfully, Soundslice (via The AV Club) has put together intricate and detailed sheet music that will show you what notes to play. Make sure you pay attention to the notes on the sheet music though, such as the fact that this is to be performed with your eyes closed for authenticity purposes. And don't worry about the pyrotechnics, because there are cues for when you're supposed to activate the flames too. Now all you need to do is get to building a flamethrowing guitar. And we're sure it won't be long until we see someone showing off one of those online too.
What a day! What a lovely day!