Cool Stuff: More Poster Posse 'Ant-Man' Artwork Sizes Up The Marvel Hero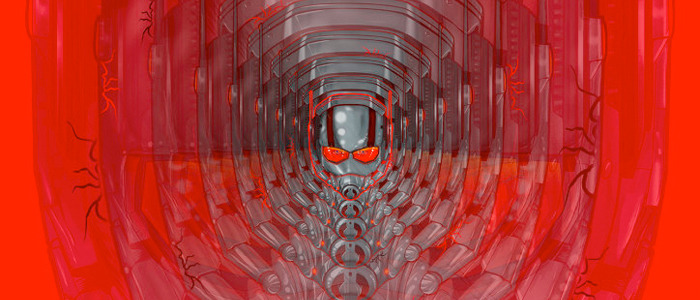 Even though we've got over a month until Marvel Studios unleashes Ant-Man into theaters, that's not stopping the folks at Poster Posse from revealing their tribute to the tiny superhero. As the group fans and artists have done with recent summer blockbusters such as Tomorrowland and Mad Max: Fury Road, a new collection of original artwork has surfaced inspired by Marvel's latest addition to their cinematic universe. There's some pretty great pieces to check out.
See the Poster Posse Ant-Man artwork collection after the jump!
UPDATED: A second gallery of new Poster Posse images has been added
And here's a second round of Ant-Man artwork from Poster Posse:
As you can see in the galleries above (via Poster Posse), most of the pieces focus on Ant-Man's superpower to get as small as an insect as inspiration for their piece. A couple of them are pretty trippy in their depiction of the shrinking of Scott Lang, which we've actually seen briefly in the trailers for the film as well. However, I do wish that there was more of the tiny Ant-Man shown in environments that we normally don't see in such a close-up proximity.
Personally, my favorites are Doaly's piece featuring the ant tunnels, and the retro banner from Rodolfo Reyes featuring Ant-Man running across the barrel of a gun. The second feels like a poster style in the vein of The Rocketeer. But no matter which one you're looking at, they're almost all better than most of the official posters Marvel has released for the film.
If you want to get some higher resolution close-up shots of some of these pieces and see how detailed they really are, head over to Poster Posse's collection. There you'll also find all the artist's names and even a couple of the images that inspired some of these posters, especially that comic book cover piece.
The next evolution of the Marvel Cinematic Universe brings a founding member of The Avengers to the big screen for the first time with Marvel Studios' "Ant-Man." Armed with the astonishing ability to shrink in scale but increase in strength, master thief Scott Lang must embrace his inner-hero and help his mentor, Dr. Hank Pym, protect the secret behind his spectacular Ant-Man suit from a new generation of towering threats. Against seemingly insurmountable obstacles, Pym and Lang must plan and pull off a heist that will save the world.
Marvel's "Ant-Man" stars Paul Rudd as Scott Lang aka Ant-Man, Evangeline Lilly as Hope Van Dyne, Corey Stoll as Darren Cross aka Yellowjacket, Bobby Cannavale as Paxton, Michael Peña as Luis, Judy Greer as Maggie, Tip "Ti" Harris as Dave, David Dastmalchian as Kurt, Wood Harris as Gale, Jordi Mollà as Castillo and Michael Douglas as Hank Pym. Directed by Peyton Reed and produced by Kevin Feige, Marvel's "Ant-Man" delivers a high-stakes, tension-filled adventure on July 17, 2015.