20th Century Fox Working On A 'Lumberjanes' Movie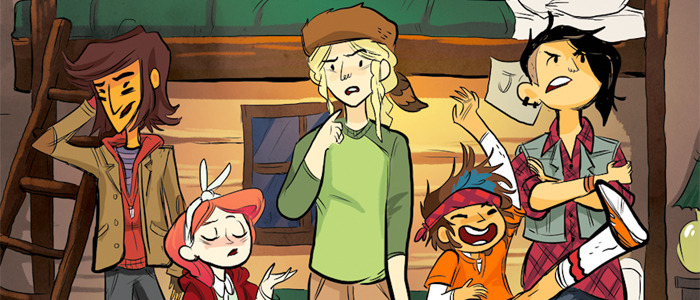 For anyone who has been desperate to see some female ensembles on the big screen outside of romantic comedy fare, we have some good news. 20th Century Fox is developing a live-action adaptation of the Boom! Studios comic book Lumberjanes. This is also good news for anyone who's getting sick of superhero comic book adaptations, because this is something a bit different.
Get more details on the Lumberjanes movie after the jump.
Lumberjanes is a comic book first published last year, created by Shannon Watters, Grace Ellis and Noelle Stevenson and illustrated by Brooke A. Allen. The story follows five Lumberjane Scouts at Miss Quinzella Thiskwin Penniquiqul Thistle Crumpet's Camp for Hardcore Lady Types who find themselves battling supernatural forces over the summer. And for the music lovers out there, each issue ends with a track listing for a mixtape created by one of the principal characters. All right, that sounds pretty damn cool.
The comic book became a surprise hit after originally only being planned as an eight-part limited series. But after strong sales,  critical acclaim, and nominations for two Eisner Awards (including Best New Series), the comic is now a full-fledged series.
The Wrap reports the comic will be adapted by Will Widger, who has been getting attention around Hollywood after making the Black List last year with a script called The Munchkin. That project is a noir thriller with flares of Chinatown that follows a little person detective who stumbles upon some conspiracies linked to The Wizard of Oz. It's set up at Red Wagon and Paramount Pictures, but we haven't heard anything about the project moving forward yet.
Fox executive Kira Goldberg liked Widger's take on the comic book, and she and Ryan Jones are overseeing the project for the studio while Boom! Studios executives Ross Richie and Stephen Christy will also act as producers along with Adam Yoelin as co-producer. And it sounds like there's going to be plenty of girl power on this project, because producers are already brainstorming female directors to be at the helm once the script is done.
There have been plenty of strong female characters on the big screen lately, such as Katniss Everdeen in The Hunger Games, Tris Prior in Divergent, Scarlett Johansson as Lucy and of course Charlize Theron as Imperator Furiosa in Mad Max: Fury Road. But we've yet to see a strong female ensemble come together in a film like this. Zack Snyder tried with Sucker Punch (which has been vehemently defended on the site before), but it didn't connect with audiences. And sadly Jem and the Holograms doesn't look like it's going to help. Lumberjanes, however, sounds like something extremely fun with the potential for some cool characters for talented young actresses to dig into.
Do you like the sound of a Lumberjanes movie? Do you think we need some strong female ensembles in genre films?