Did You Catch All These 'Daredevil' Easter Eggs?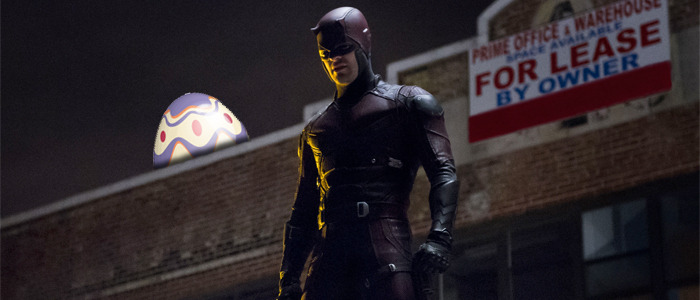 Shortly after The Avengers: Age of Ultron hit theaters, there was already a video running through a slew of easter eggs from the film, moments that reference the comic books and the rest of the Marvel cinematic universe. And since the buzz of the superhero sequel began to overshadow the previous month's release of the Netflix series adaptation of Daredevil, we figured now was a good time to revisit all the goodies that Marvel Studios' third television series had to offer.
Check out the video running through Daredevil easter eggs after the jump!
As the video from Mr. Sunday Movies admits, this may not be all of the references that happen in the series, but this is certainly a large chunk of them. I'm always impressed by just how many obscure comic book details make it into the Marvel movies and television shows. It's the kind of stuff that only the most hardcore fans would pick up on, and without videos like this on the internet, lesser educated fans like myself would never be the wiser.
There hasn't been huge buzz about Daredevil since fans binge-watched it in April and have moved on to making opening credits mash-ups with Night Court and Law & Order. But there have been some recent rumors swirling about a recognizable comic book character entering the fray for the second season.
ComicBook.com (via Bleeding Cool) reports that a couple of audition videos hit Vimeo a couple days ago, but were quickly deleted. The videos featured actresses Louisa Mignone and Shiva Kalaiselvan reading lines, and while there's no direct reference to the character's name in the dialogue used, many are guessing (and likely correctly) that these are auditions for the character of Elektra Natchios. As fans know, she becomes quite a pivotal character in Matt Murdock/Daredevil's life.
However, take this only as a rumor for now, because the videos claim that the character in the auditions was the for role of a woman named Elise. That could easily be a red herring though. After all, if you look at the dialogue used (read it in full right here), the dialogue seems like a perfect fit for Elektra. One of the audition scenes is a flirty college flashback with Matt Murdock, and you may remember a reference to Matt's Greek ex-girlfriend in one of the flashbacks from the first season. We're pretty sure that's Elektra, but we'll have to wait to find out.