VOTD: Dwayne Johnson Wedding Surprise Makes For Magical, Muscular Matrimony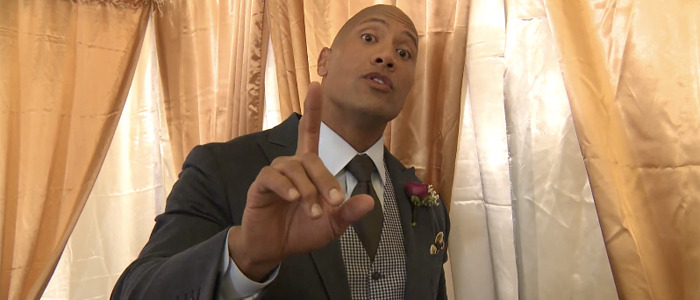 As if Dwayne Johnson wasn't already cool enough, the wrestler turned blockbuster superstar had to do something adorable for one of his biggest fans. While taking part in the press junket for this week's release of the earthquake action thriller San Andreas, Johnson joined in and ultimately led a wedding surprise scheme for journalist Nick Mundy at ScreenJunkies.
Watch the Dwayne Johnson wedding surprise after the jump!
Mundy thought that he was going to be taking part in some elaborate bit that would be part of his video interview with Dwayne Johnson, but the tables were turned on him when he learned that The Rock was going to be officiating his wedding right then and there. As you can see, the result is a hilarious and touching moment that shows Dwayne Johnson may actually be a real-life superhero.
And because this all happened during the press tour for San Andreas (watch the latest trailer right here), Johnson couldn't help but plug the movie that hits theaters this week. During the surprise ceremony, Johnson said:
"Nothing is more powerful than your union. It carries more force than a bolt of lightning or even the world's largest earthquake, much like the one you'll see in 'San Andreas' when it hits theaters May 29th."
How many people would pay thousands of dollars to have Dwayne Johnson preside over their wedding? Hell, people would pay just to have Dwayne Johnson show up at their wedding for five minutes. What's even cooler is that ScreenJunkies and Dwayne Johnson were able to round up Mundy's closest family and friends for this unforgettable moment. Of course, it's made that much more memorable by the presence of The Rock. It doesn't even matter that Mundy got married wearing American flag pants. In fact, that just makes this moment even better.