Cool Stuff: Custom LEGO 'Mad Max: Fury Road' Vehicles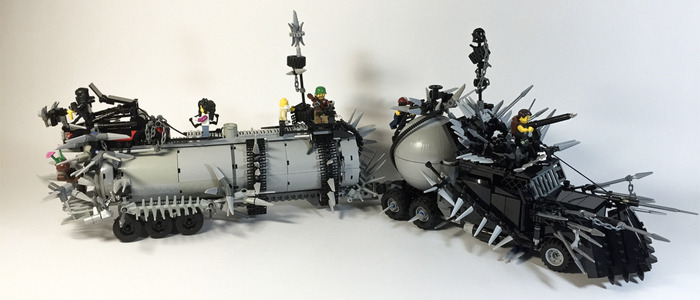 Here at /Film, we're big fans of anything having to do with LEGO. That includes real LEGO sets like the recent Kwik-E-Mart release from The Simpsons, custom LEGO sets such as this massive 10,000 piece Millennium Falcon, and even video games like the forthcoming LEGO Jurassic World. So you can imagine how excited we were to find out that one LEGO fan built some custom sets paying tribute to Mad Max: Fury Road.
A Flickr user going by the name "LEGO Will" has built some incredible custom LEGO Mad Max: Fury Road vehicles, including the rogue War Rig commandeered by Imperator Furiosa. In addition, there's also a rather interesting variation on Immortan Joe's modified 1959 Cadillac that fans of another popular film franchise will appreciate. Check out the custom LEGO Mad Max Fury Road vehicles after the jump!
Here's a gallery of the custom LEGO vehicles from Mad Max: Fury Road from Reddit (via Kotaku):
As you can see, the color scheme of the War Rig isn't perfect, but that doesn't stop it from being a very impressive LEGO set. And when it comes to Immorten Joe's Cadillac, clearly that's not the version we saw in theaters since it uses pieces from the LEGO Ecto-1 from Ghostbusters. We wouldn't mind seeing the new Ghostbusters cruising around in that beast.
But the one set that everybody will undoubtedly want to become a reality is the Doof Wagon, which contains a whole slew of Doof Warriors playing drums. However, it could use a LEGO Version of everyone's favorite character, the flame-throwing guitarist (who apparently has a whole backstory already prepared).
If you want more close-up photos of these sets, check out LEGO Will's Flickr page right here. Otherwise, you'll probably want to check out the trailer for the LEGO documentary Beyond the Brick, or maybe this short film that recreates the end of Back to the Future with LEGO pieces. And don't forget that The LEGO Movie Sequel is on the way with several spin-offs like LEGO Batman and The Billion Brick Race in the work as well.