'Mission: Impossible 6' Already Developing At Paramount?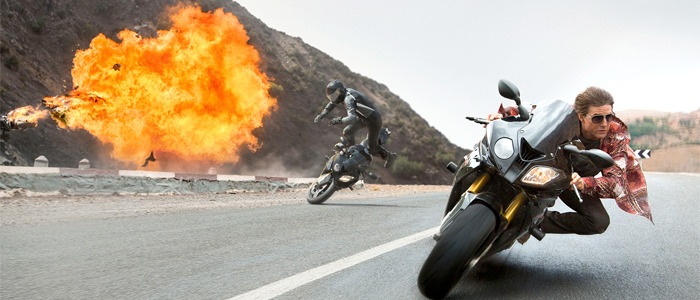 Audiences won't be feasting their eyes on Mission: Impossible – Rogue Nation until July 31st, but that's much earlier than the initial Christmas release that Paramount Pictures had planned. And in addition to being unable to wait to release the sequel in theaters, the studio is also jumping the gun on development of yet another sequel.
A new report has surfaced saying Paramount Pictures is already developing Mission: Impossible 6. At this time, no cast members are officially set to return for the sequel, but Tom Cruise will again be producing along with David Ellison and Dana Goldberg at Skydance Productions and J.J. Abrams at Bad Robot. Get more details below.
We're not entirely sure that the film is being quickly developed at Paramount Pictures, if only because this report comes from Tracking Board, who can be hit or miss when it comes to their scoops. But considering that the Mission: Impossible franchise has been doing rather well at the box office around the world, it wouldn't be surprising in the least of Paramount wanted another installment as soon as possible. After all, Tom Cruise may still be at the top of his game when it comes to action and participating in crazy stunts himself, but he's certainly not getting any younger.
Aside from Tom Cruise, the franchise has been strengthened by the presence of an ensemble cast around him. Jeremy Renner, Simon Pegg and Paula Patton helped out in Mission: Impossible – Ghost Protocol, and Renner and Pegg are both back for Rogue Nation as well. The team will gain another member with Rebecca Ferguson joining the mix this time, but we'll have to wait and see who makes it out of Rogue Nation alive before we can start figuring out who will be back for Mission: Impossible 6.
And since it's so early in development, we also don't have any idea when we might see the sequel hit theaters. The next Tom Cruise film will be the drug smuggling thriller Mena, directed by Edge of Tomorrow helmer Doug Liman and set for release on January 6th, 2017. The actor is also being eyed to lead Bob the Musical at Disney, but he's not officially attached to the project yet.
For now, we'll just have to wait a couple months to see Mission: Impossible – Rogue Nation hits theaters (watch the full trailer right here). And if Mission: Impossible 6 quickly follows, I wouldn't be surprised if that wraps up Tom Cruise's involvement in the film series. That would mark the end of a second trilogy, so it would be the perfect time to pass the torch on to someone else. After all, Renner was once being set up to inherit the franchise from Tom Cruise. And with The Bourne Legacy sequel being pushed back, maybe Renner will take solace in a different franchise of his own.
Will you be looking forward to Mission: Impossible 6? Do you think Tom Cruise needs to pass the torch soon?