LOL: Mario Kart And 'Mad Max: Fury Road' Mash-Up Is A Match Made In Valhalla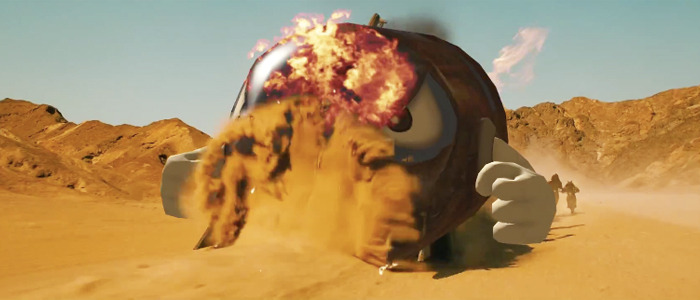 People just can't stop talking about Mad Max: Fury Road. The action bonanza seems to be the movie to beat this summer, and I'm not sure that any of the releases coming up have the potential to overshadow this gorgeous, mesmerizing, mind-blowing piece of cinema. And since we've been gushing about the movie for over a week now, it's time to start playing around with it on the internet by mashing it up with whatever people can think of.
Earlier this week we already featured a surprisingly perfect mash-up of the Netflix comedy series The Unbreakable Kimmy Schmidt and footage of Charlize Theron being a certified badass as Imperator Furiosa. Now another fantastic use of Mad Max: Fury Road footage has come along that combines the film non-stop chase with elements of Mario Kart. It's surprisingly well-done and very amusing. Watch the Mario Kart Mad Max Fury Road video after the jump.
The effects used for this video are actually pretty impressive, and there are a lot of subtle touches that I didn't even pick up on the first time I watched this. Did you notice the subtle color correction to give Max's clothes a red and blue hue to make him look like some kind of post-apocalyptic Mario? There's even a wrinkled hat in the foreground when Tom Hardy rises out of the sand in slow-motion.
But other touches aren't so obvious. Surely you'll have to got back and watch a couple times to notice things like the Bob-Ombs at the end of the War Boys' explosive spears. And on the big musical vehicle (which almost feels like it's straight out of a very metal Whoville), the drums have a Donkey Kong logo on them. Seriously, watch this a few times, because there's some great little references you missed the first time around, especially in the quick cuts.
If you haven't been keeping up with /Film lately, we've had a whole slew of much more serious Mad Max: Fury Road coverage. Angie Han delivered a thoughtful commentary on the masculinity of the film that goes hand-in-hand with the film's strong feminism. Meanwhile, Russ Fischer dove into a bunch of awesome facts about the making of the film, including the existence of a black and white cut of the movie that is supposed to be on the Blu-Ray release.
Don't worry if you haven't seen Mad Max: Fury Road yet, because it'll be around for awhile longer. And if you're one of those who just isn't familiar with Mad Max as a character or film franchise, check out our primer to reassure you that Mad Max: Fury Road is a movie you can still enjoy immensely without knowing anything about the previous films. But make sure you heed the advice of the Alamo Drafthouse's PSA, featuring director George Miller and Hugh Keays-Byrne, who has now played two villains in the films.
In the meantime, we'll be looking forward to a sequel to Fury Road, which Miller recently revealed will be called Mad Max: The Wasteland. We know Tom Hardy will definitely be back since he's signed for three more Mad Max movies, and we hope that's also true for Charlize Theron. Will everyone's favorite flame throwing guitartist be able to make a comeback? The character has a whole backstory, and he's quickly assembled quite the fanbase, so it's inevitable. And again, if you haven't seen Mad Max: Fury Road yet, pick up what you can, and run to the nearest cinema.