'Batkid Begins' Trailer: How One Boy's Superhero Wish Inspired The World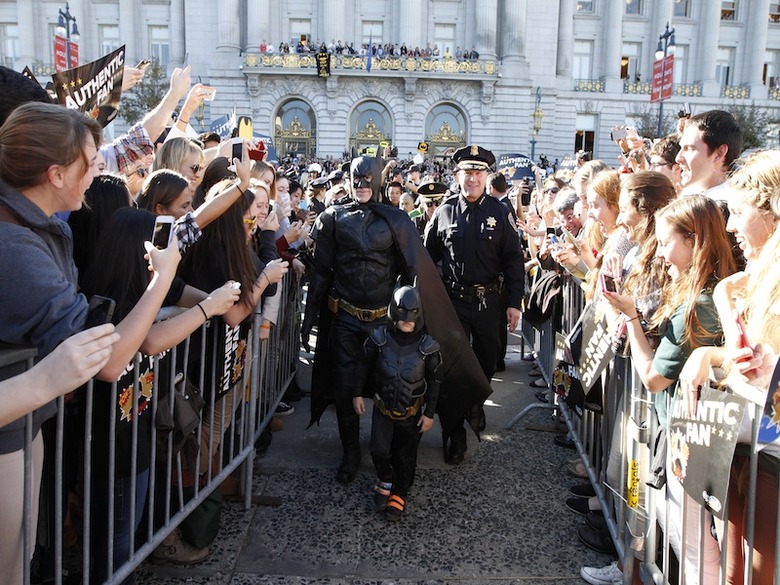 Batkid Begins will restore your faith in humanity. We live in a cynical world; hate and conflict are things we all deal with every day. But in the documentary Batkid Begins, you get to see how pop culture can not only bring out the best in people, it can unite us in ways that are absolutely remarkable.
You probably remember back in 2013, a young boy diagnosed with leukemia was chosen by the San Francisco Make-A-Wish foundation to get his wish. The boy, Miles Scott, wanted to be Batman. Granting that wish would be no easy task. As news of his wish got out, the event snowballed into something bigger than anyone imagined. From his family to the planning to the worldwide reaction, you see all facets of this incredible event in Batkid Begins. 
Directed by Dana Nachman, Batkid Begins will be released by New Line Cinema on June 26. (Julia Roberts is also producing a narrative version of the story.) Check out the first Batkid Begins trailer below.
Here's the trailer via Warner Bros.
Batkid Begins Trailer
And here's the new Batkid Begins poster as well as the Drew Struzan festival version:
You can read our review of Batkid Begins at this link, and here's the official description:
It's November 15, 2013.Twenty-five thousand people descend on San Francisco. Online, two billion others join in. This massive crowd erupts with a collective display of public emotion rarely seen. With a Beatlemania-like intensity, people take to the streets and screens. They are all united to fulfill the wish of 5-year-old Miles Scott, who is recovering from Leukemia. It is his dream to become Batkid and save Gotham City. Untitled BatKid Documentary chronicles the making of the overnight international phenomenon that is BatKid.
The film reveals what happens when an event goes unintentionally viral. Will the San Francisco Make-A-Wish Foundation fulfill its mission to help Miles reclaim his childhood after battling disease for more than half his short life? Or will the event itself spiral out of control; consume the organization, scare Miles and shut down an entire city?
Audiences will come along as Patricia Wilson, executive director of the San Francisco Make-A-Wish chapter, and her team – in true superhero spirit – tackle the monster they created.
Before BatKid, the largest crowd Patricia had organized was 300. She posts an RSVP on her website. Immediately 7,000 sign up. Soon the number is growing at 1,000 people a day, overwhelming Patricia's team. Will the young boy's dream
get lost in a nightmare?
This film shows what can happen when people come together in the spirit of "Yes! And...."
Everyone Patricia and company approach say "Yes!" And even take the request a step further.
Featring exclusive illuminating interviews with all the main players including executives at Twitter and Apple, the film reveals surprising truths about what happens when a nerve is touched in our digital society.
The film looks at the "why" of this phenomenon. Why did the intense outpouring of spontaneous support for a five-year-old reverberate around the world? In the end, the film leaves audiences to decide; did Miles need the world for inspiration? Or did the world need Miles?