'Scream Queens' Full Trailer: Sassy, Sarcastic Sorority Girls Get Slaughtered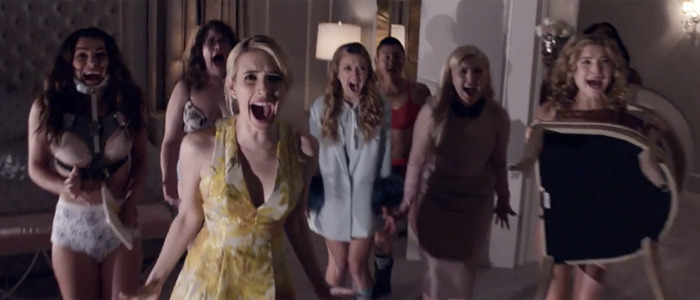 When the upfront presentation for the new TV shows coming to Fox this fall was unveiled, there was no new trailer for the horror comedy Scream Queens from Glee and American Horror Story creator Ryan Murphy. Instead, a teaser trailer with actual footage from the show arrived on its own, which means Fox really wants this one to stand out and hopes it'll be something special. Unfortunately, the full trailer for the series has arrived, and this looks like it's going to be murder, and not in the way you want from a horror comedy. Watch the full Scream Queens trailer after the jump.
Here's the full trailer for Scream Queens, straight from Fox:
As someone who fell away from enjoying Glee and doesn't really enjoy American Horror Story, I still had a lot of hope that this was going to be good. The casting of Emma Roberts, Jamie Lee Curtis and Abigail Breslin actually caught my interest, and I was even curious to see what else Glee star Lea Michele could do. But as you can see above, this just does not look good.
Just going by this trailer, it seems like Jamie Lee Curtis could be wasted, Meanwhile, Lea Michele has gone far in the opposite direction of her character from Glee, almost to the point that it feels like she's in a sketch from Saturday Night Live. And how are we supposed to care about this show when every single character seems to be completely unlikeable? If we're supposed to feel absolute joy when most of these characters are inevitably killed, then mission accomplished, Ryan Murphy.
Sadly, the show just looks like a parody of itself. It takes the sarcastic, trying-too-hard comedic style of Glee and combines it with absolutely no style in the horror department. Scream Queens seems like it desperately wants to be Scream, but it's just not working for me. It's far too obvious and broad, lacking any subtlety whatsoever. At this point, it looks like MTV's series adaptation of the Scream film franchise (watch the trailer here) might be the slasher series to watch. Maybe I'm being too harsh, but it's going to take some convincing for me to think Scream Queens is worth watching.
The girls of Kappa House are dying for new pledges. SCREAM QUEENS is a new killer comedy-horror series from Ryan Murphy, Brad Falchuk and Ian Brennan, the Emmy- and Golden Globe Award-winning executive producers of GLEE and "American Horror Story."
Wallace University is rocked by a string of murders. Kappa House, the most sought-after sorority for pledges, is ruled with an iron fist (in a pink glove) by its Queen Bitch, CHANEL OBERLIN (Emma Roberts). But when anti-Kappa DEAN MUNSCH (Jamie Lee Curtis) decrees that sorority pledging must be open to all students, and not just the school's silver-spooned elite, all hell is about to break loose, as a devil-clad killer begins wreaking havoc, claiming one victim, one episode at a time. Part black comedy, part slasher flick, SCREAM QUEENS is a modern take on the classic whodunit, in which every character has a motive for murder... or could easily be the next blood-soaked casualty.
Scream Queens begins airing on Fox in September. Anyone out there interested at all?