Our Top 15 Favorite Theme Park Movies And Scenes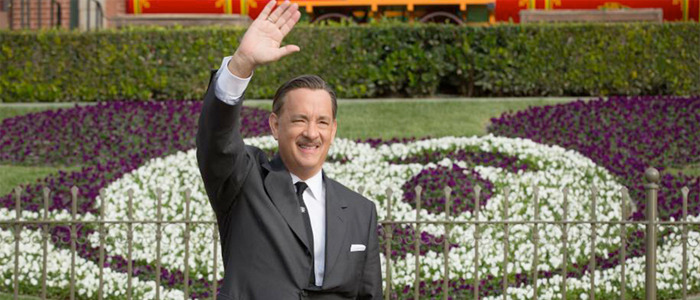 This weekend, director Brad Bird takes into a whole new world with the Disney sci-fi adventure Tomorrowland. The film starring Britt Robertson and George Clooney is influenced and inspired by the real-life Disney theme park attraction of the same name (even if references to Walt Disney were cut out of the movie). Therefore, this seems like the perfect time to take a look back at some of our favorite theme park movies and scenes from the big screen.
Below we have a countdown of the Top 15 Favorite Theme Park Movies & Scenes. Frankly, there aren't an overwhelming number of theme park-based movies before you start getting into bad movie territory (such as Beverly Hills Cop III or Final Destination 3). That's why we've included some great scenes from films that might not be entirely set at a theme park. We've also expanded the concept to include carnivals, fairs and water parks, because it just makes sense. Check out the list after the jump!
#15. Westworld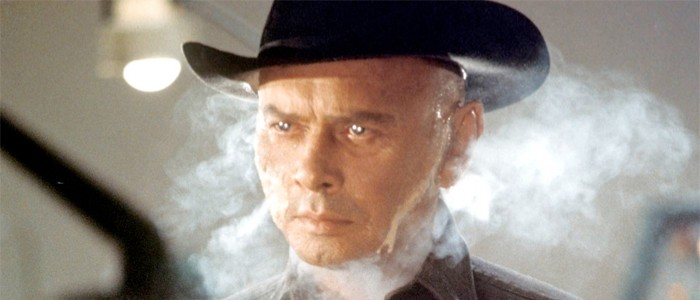 "Have we got a vacation for you!" With artificial intelligence becoming more of a reality as technology advances everyday, this sci-fi, western, thriller might not be too far from predicting the future. In the movie, an amusement park called Delos, populated by androids very close to being human-like, immerses adults in three different worlds: Medieval World, Roman World and West World. In this final world that malfunctions in a gunslinger android, as well as the other "attractions," begin to pose a fatal threat to attendees. It's this kind of scenario that would probably keep me from ever messing with an android populated theme park, especially for $1,000 a day. Don't forget, we'll see this concept updated in a new series on HBO.
Fun Fact: This film marked the feature directorial debut from author Michael Crichton, the man whose book inspired another dangerous theme park adventure you may have heard of called Jurassic Park. But more on that later.
#14. The Notebook – Ferris Wheel Scene
Yeah, we're going to get a little cheesy with our first scene on this countdown. There's plenty of ferris wheel scenes in romance movies out there, but this one takes the cake. There are plenty of men and women out there that wouldn't be able to resist Ryan Gosling threatening his own life by hanging from a ferris wheel, unless he's given the opportunity to go out on a date with them. But let's be honest, Ryan Gosling is probably so strong that he can hang there for awhile, so you'd have some time to think about it.
#13. Escape from Tomorrow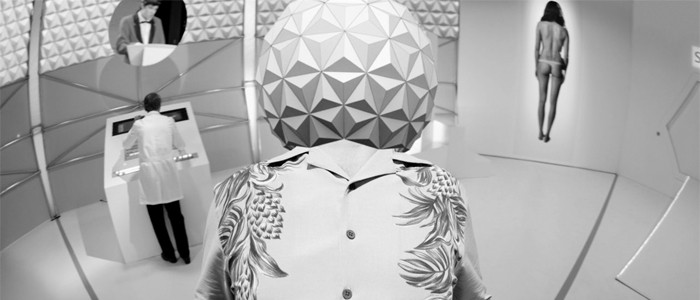 You can probably count the number of movies that have been shot in Disneyland but not officially sanctioned by the Walt Disney Company on one hand, and then the House of Mouse would probably slap your hand for even bringing them up. But none received as much buzz or interest as the peculiar indie psychological horror flick Escape from Tomorrow. The entire film was secretly shot at Disney's theme parks, and it makes for quite a unique viewing experience that you'll likely never see in a large scale film production that isn't made by Disney. While the quality of the story leaves something to be desired, the movie must still be seen to be believed and is quite the surreal trip.
#12. Saving Mr. Banks – Welcome to the Magic Kingdom
Speaking of being able to shoot movies at Disney theme parks, Saving Mr. Banks is one of the few major motion pictures that actually shot on location for some scenes. For two days, Tom Hanks and Emma Thompson walked around part of Disneyland that had been touched up to look like it did back in 1961. Disneyland Resort attendees were made up as extras, and many park employees were allowed on set in various park extra roles as well. The result is a pretty magical time capsule in a movie that really does capture the charm of Walt Disney.
#11. The Jerk – Navin's Special Purpose
It was tough to choose between this and Steve Martin as a weight guesser at the carnival, but nothing beats finding out what your special purpose is. There's a good chunk of The Jerk that takes place at the carnival, and it's not only where Navin (Martin) becomes a man, thanks to the rough carnival personality Patty (Caitlyn Adams), but he eventually finds his dream woman Marie (Bernadette Peters), who also takes an interest in his special purpose. If you haven't seen this comedy classic, take the time and check it out.
#10. The Way Way Back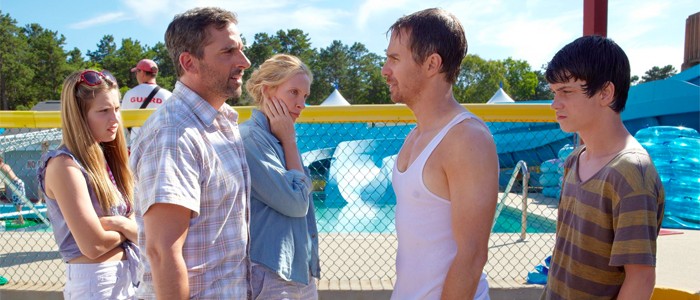 It's time for our first and only water park entry on this list. This Sundance selected coming of age comedy hits plenty of familiar notes that have been covered by countless films before, but it's the personalities at the Water Wizz water park that make this one special. Shot on location at a real water park of the same name in Massachusetts, the park in the movie is run lazily by Sam Rockwell, with plenty of badgering from Maya Rudolph. It's here that struggling, awkward youngster Liam James (who was in the running for the new Spider-Man) comes out of his shell, interacting with unique employees like Lewis (Jim Rash) and Roddy (Nat Faxon).
#9. Strangers on a Train – Carousel Final Fight
You can't go wrong with a classic Alfred Hitchcock thriller that concludes with a stand-off on a carousel that spins wildly out of control. For a film released in 1951, this is quite the action-packed finale, and that just shows the genius of Hitchcock. If this film were made today, this scene would probably happen on a high speed roller coaster that has been rigged to explode if it stops before the missile inside of it launches to blow up the moon.
#8. Grease – You're the One That I Want / We Go Together
Do high schools have carnivals like this anymore? Well, at one point they did, and that's where Danny Zuko (John Travolta) and Sandy Olsson (Olivia Newton-John) unveil their drastically new looks. And because it's a musical, it's not long before they're singing about how much they love each other, dancing and singing around the fun house. We even get a nice two-fer since the musical number for "You're the One That I Want" goes right into the finale "We Go Together." And like any good romance, our two lovers hop in a hot rod and fly into the sky. Wait, what?
#7. Adventureland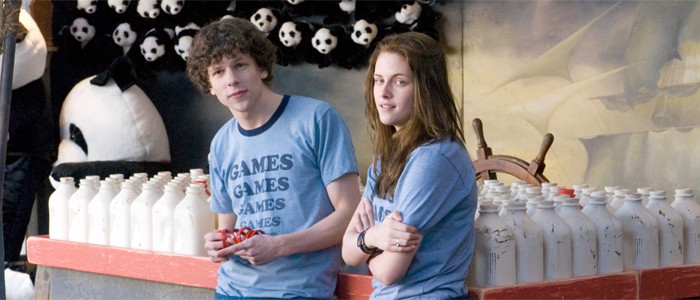 After Kristen Stewart became huge in The Twilight Saga, but before Jesse Eisenberg would go on to create Facebook or terrorize Superman, these two stars struck up a romance at the rundown amusement park called Adventureland. The park is actually Kennywood, a historic amusement park in nearby West Mifflin, Pennsylvania, but it's based on a park of the same name in Farmingdale, New York. Director and writer Greg Mottola actually worked at the New York park in the 80s, which loosely inspired this film.
Much like The Way Way Back, this cast also features some great supporting comedy stars before they got much bigger, such as "SNL" cast members Kristen Wiig and Bill Hader. And of course there's Green Lantern star Ryan Reynolds, who probably won't be encountering Eisenberg as Lex Luthor in the DC Comics universe anytime soon. It's another one of those formulaic coming of age movies, but it's easily one of the best movies Stewart has done, and works splendidly.
#6. Big – Your Wish is Granted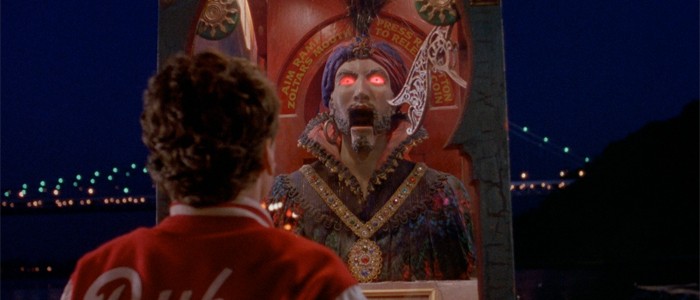 Sadly, this scene isn't available online for some reason. But considering how iconic this early Tom Hanks movie from the 80s has become, we're pretty sure you can run through the whole scene in your head without any problems. It's because of this movie that almost any novelty wish-granting arcade machine is referred to as a Zoltar machine. And you can guarantee that anyone who happens to stumble upon one of these that still exist (there's more than you would think, simply because of the legacy of the movie) will be taking a selfie with it and making a wish. Though they're probably not wishing to be big anymore, because mostly everyone who loves this movie nowadays is an adult.
#5. The Sandlot – Let's Ride
Whether or not you love baseball, The Sandlot has become a rite of passage for kids growing up. Those who grew up watching the film in the 90s have introduced it to the kids of their own they have today. And in what is probably the second best use of the song "Tequila" on the big screen, this scene brings back memories of all the stupid stuff you did as a kid to make you feel like a big shot. And at the same time, it also serves as a lesson to kids watching that sometimes doing some of the stuff that adults do just isn't a good idea. Also, this might be some of the most disgusting vomit in a movie.
#4. Blackfish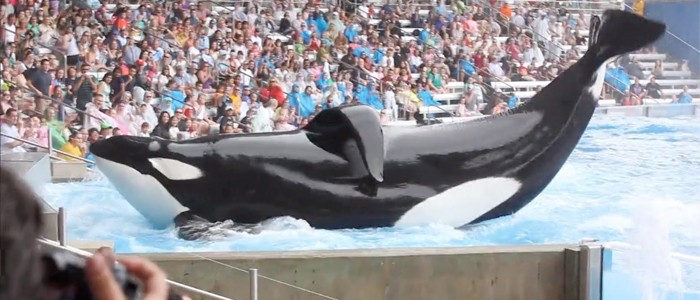 This post has been full of light and fun movies and scenes, but we have to interrupt that for this eye-opening documentary that skewers the practices of what used to be an acclaimed and respected attraction. SeaWorld gets the spotlight in this film from director Gabriela Cowperthwaite, but not because it's such a magical place to visit. Instead, it's because this purported haven for aquatic animals, namely killer whales, is more like a hell for these giant underwater mammals. Featuring interviews with former SeaWorld trainers and other experts, this film paints an ugly portrait of a theme park that needs to be shut down for good.  If you haven't seen this disturbing documentary yet, it's on Netflix Instant right now.
#3. Zombieland – Pacific Playland
In a climactic stand-off that feels straight out of a video game, Jesse Eisenberg, Woody Harrelson, Emma Stone and Abigail Breslin face a zombie horde in Pacific Playland. The real theme park is actually Wild Adventures in Valdosta, Georgia, and it works as a fantastic backdrop, making for some of the best zombie kills the horror subgenre has ever seen. Harrelson is a badass throughout this whole movie, but he really lets loose in this sequence. Above is just a taste of the full sequence, but you should probably just go watch the whole movie again anyway.
#2. National Lampoon's Vacation – Walley World
Even though this classic comedy doesn't take place at an amusement park, the whole trip is about getting to Walley World. Of course, we all know the fate of this insane road trip, but seeing Chevy Chase punch Marty Moose and threaten John Candy never gets old. And hey, that's Mr. Duncan from Home Alone 2: Lost in New York as the park owner. This is easily one of the best, if not the best, road trip comedies ever made. And as such a big fan of the original, I was pleasantly surprised to be laughing pretty hard at the first red band trailer for the reboot starring Ed Helms.
#1. Jurassic Park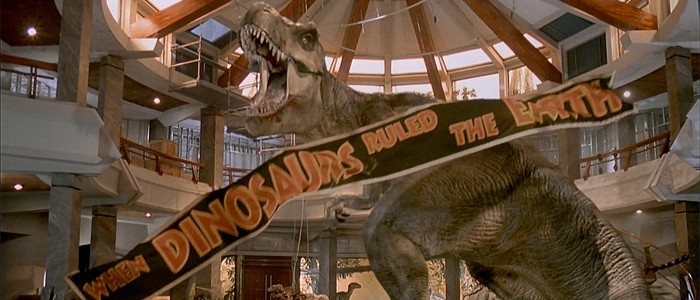 Were some of you worried that this movie would be on the list? Of course it's going to be #1. This is the ultimate theme park movie. Not one man, woman or child saw Jurassic Park and didn't wish that it was real. Who wouldn't want to see dinosaurs alive again? Of course, as we'll find out again in Jurassic World, the aspirations behind this creation always prove to be a little foolhardy and perhaps eventually fatal. But maybe this glimpse at the downfall of a dream we all have is enough for now, at least until scientists really do figure out how to bring dinosaurs back to the planet.
So there you have it. Surely there's some scenes from movies that didn't make our list, so now's the time for you to sound off. What are some of your favorite scenes that happen at a theme park, carnival, fair or water park? Are there any key movies or scenes that you think deserve to be on here?