LOL: Peter Dinklage Sings About Character Deaths In 'Game Of Thrones' Musical [Updated]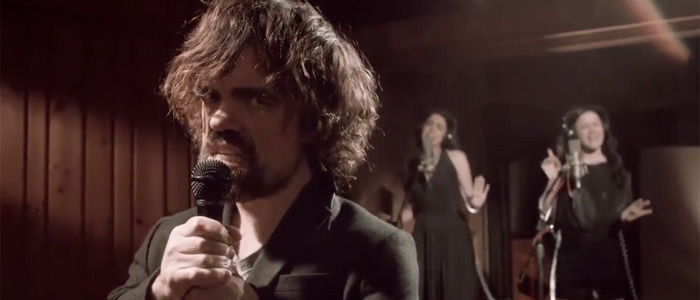 Not long after we saw Anna Kendrick star in a teaser for a female-led remake of Indiana Jones and the Last Crusade, we have some more amusing fun being teased for Red Nose Day. For those who don't know, Red Nose Day is a comedy fundraiser that started in the United Kingdom and is making its way to the United States for the first time with a primetime special on NBC airing on Thursday, May 21st at 8pm Eastern. It's a star-studded event featuring a slew of comedians, actors, musicians and more, and we just got another tease of something Game of Thrones fans will enjoy.
Peter Dinklage is teaming up with Coldplay to deliver a Game of Thrones musical, and NBC has unveiled a tease of the fan favorite actor singing a song about the various character deaths on the show. So if you happen to be way behind on HBO's most popular show, beware of spoilers. Watch the Game of Thrones musical tease below!
Update: We've now got the full Game of Thrones musical production video, narrated by Liam Neeson.
Here's a tease of the Game of Thrones musical fun that will happen on Red Nose Day (via NBC):
This is just a tease of the Game of Thrones musical fun that will happen on Red Nose Day. Chris Martin and his band Coldplay are involved in the musical proceedings that will air during the comedy fundraiser. In fact, here's a quick glimpse of what they've been working on, complete with a whole slew of cast members from the hit HBO show, including Kit Harrington, Rose Leslie and many more:
Funnily enough, this won't be the first time Game of Thrones has had ties to Coldplay. The band's drummer, Will Champion, actually had a cameo on the series as a member of the band who was playing at the infamous Red Wedding. It should be interesting to see how the world of Westeros comes to life in the form of an abridged stage musical, especially with much of the cast on hand to help out.
Update: Here's the full 12-minute video, narrated by Liam Neeson. Watch long enough to see Martin doing 'Rastafarian Targaryen' about three minutes in.
If you want to know more about Red Nose Day, check out the official description and talent roster from NBC:
Red Nose Day, the U.K.'s #1 television fundraising event, is coming to America in a spectacular live star-studded special Thursday, May 21 (8-11 p.m. ET) on NBC.
Hollywood's biggest stars, including Julia Roberts, Will Ferrell, Jennifer Aniston, Reese Witherspoon, Jodie Foster, Jimmy Fallon, Neil Patrick Harris, Coldplay and more, are coming together to have fun, raise money and change lives in an incredible "fun-raising" special. Featuring great comedy, videos produced by Funny or Die, incredible music performances and almost 100 of Hollywood's favorite stars, the benefit event will help 12 charity organizations lift children and young people out of poverty in the U.S. and in some of the poorest communities in the world.
Julianne Moore and Jack Black, will also appear, along with John Krasinski, Emily Blunt, Michelle Rodriguez, Gwyneth Paltrow, "Voice" coaches Adam Levine, Blake Shelton, Christina Aguilera and Pharrell Williams, Richard Gere, Jennifer Garner, Keith Urban, John Mellencamp, One Direction, Zac Efron, Helen Mirren, Robert Pattinson, Liam Neeson and Nick Cannon. Sienna Miller, Paul Rudd, Olivia Wilde, Eddie Redmayne, Benedict Cumberbatch, Sir Ian McKellen, Orlando Bloom, Leslie Mann, January Jones and Simon Cowell will also be joining the fun, as well as Matt Lauer, Carson Daly, Nick Offerman, Elizabeth Banks, Chris Pine, Jeff Goldblum, Billy Eichner, Martin Short, Laura Linney, Anna Kendrick, Sean "P. Diddy" Combs, John Michael Higgins, Bill and Melinda Gates, Stephen Merchant, Naomi Campbell, Anna Camp, Jeanne Tripplehorn, Yvette Nicole Brown, Retta, Natalie Morales, Danny Pudi and Rob Huebel.
In addition, Matt LeBlanc, Hugh Bonneville, Dame Diana Rigg, Kyle MacLachlan, Rose Byrne, Elisabeth Moss, "Saturday Night Live" cast members Jay Pharaoh, Colin Jost and Michael Che, Hoda Kotb and Gilbert Gottfried are slated to appear, along with Cheryl Burke, Nicole Scherzinger, Jeff Dye and Australian comedy sketch trio SketchShe.
The star-studded event for charity will also feature "Game of Thrones" cast members Kit Harington, Peter Dinklage, Iwan Rheon, Nikolaj Coster-Waldau, Emilia Clarke, Thomas Brodie-Sangster, Mark Addy, John Bradley, Rose Leslie, Alfie Allen and Charlotte Hope. "Orange Is the New Black" cast members Dascha Polanco, Samira Wiley, Yael Stone, Selenis Leyva, Lea DeLaria, Adrienne C. Moore and Jackie Cruz will also be part of the charity special.
A sketch film documenting the creation of "Game of Thrones: The Musical," written by Coldplay and featuring a number of the HBO show's cast members, will be one of the many highlights on "Red Nose Day," along with John Mellencamp and Keith Urban performing "Pink Houses."
The benefit event will also feature short appeals films that shed light on those in need. Jack Black travelled to Africa to visit children in Uganda living on the streets, witnessing firsthand the devastating effects of preventable diseases at a hospital. Blake Shelton visited a mobile health clinic in Los Angeles that is providing free, life-changing care to underprivileged children. In Peru, Michelle Rodriguez met children having to work to survive and saw how projects there are helping them get the education they need.
The money raised during Red Nose Day will be used to fund programs that address the immediate needs of children and young people living in poverty in the U.S. and internationally in Africa, Asia and Latin America. The money will be split between domestic and international poverty issues. The pre-selected charity partners are Boys & Girls Clubs of America; charity: water; Children's Health Fund; Feeding America; Gavi, The Vaccine Alliance; the Global Fund; LIFT; National Council of La Raza; National Urban League; Oxfam America; Save the Children and United Way.
Will you tune in for Red Nose Day? If you want to donate, head over here.