LOL: Transformers Ruin 'Forrest Gump,' 'Jerry Maguire,' 'Inception' & More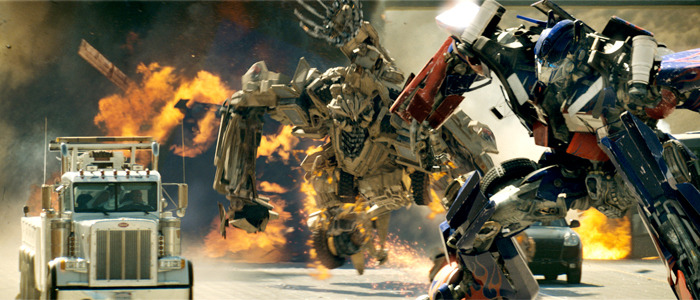 One could argue that Michael Bay and his Transformers franchise have done enough to ruin filmmaking just by existing. But we can badmouth the director and his penchant for big, mindless blockbusters, lingerie models and endless explosions all day long. It doesn't change the fact that his movies are successful, and he's a very intense and efficient director, pulling off some impressive work, even if it lacks a substantial story.
But now his Transformers are getting out of control as they've started venturing into other movies where they don't belong. Autobots and Decepticons are ruining scenes from some of your favorite movies, from Inception to Forrest Gump to Jerry Maguire and more. They must be stopped. Watch the Transformers ruin your favorite movies below.
Here's the Transformers ruining your favorite movies for a quick laugh from Funny or Die:
This is undoubtedly a really easy joke to make with the magic of editing, but it's an amusing premise to think about the people who just had their day ruined by giant robots fighting on the freeway. And applying that to other car accidents from other movies just make it that much more amusing. It's not a genius piece of comedy, but it made me chuckle a bit. At the very least, it'll probably make you laugh more than any of the "comedy" in the Transformers movies.
Speaking of which, don't forget that Hasbro is expecting more Transformers to hit the big screen in 2017, and Paramount Pictures is hoping to build a cinematic universe for the robots in disguise. But technically that's what has already been happening now that Transformers: Age of Extinction introduced Optimus Prime and the other Transformers to Mark Wahlberg and other new characters outside of the original film trilogy. No matter what, we'll definitely be seeing more Transformers movies sometime in the next few years, because Hasbro has to keep selling toys.