Dwayne Johnson Back For 'Fast And Furious 8,' Hobbs Spin-Off Still Possible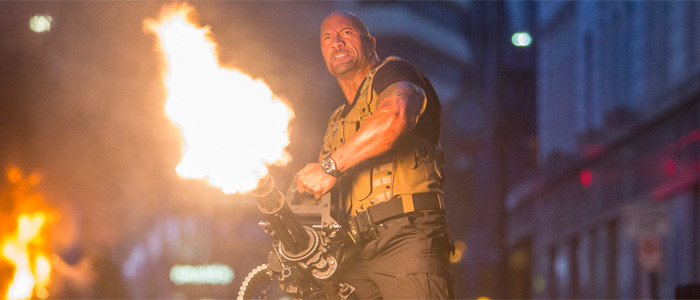 As of the beginning of April, there hadn't been any public movement on Fast and Furious 8. However, once CinemaCon rolled around later that month, Universal Pictures got the hype machine started by announcing a release date on April 14th, 2017. And while there's likely not a complete story developed for the sequel just yet, that hasn't stopped one of the film's stars from confirming that he will be back for more action. At a press conference for San Andreas (coming to theaters later this month), Dwayne Johnson revealed that we'll definitely see him in Fast and Furious 8, and we may still get more Hobbs action in his own movie too.
Johnson didn't have any extra details to divulge, but when asked about the sequel, he didn't hesitate to confirm his eventual return (via Collider):
"Of course. It can't go on without Hobbs."
Considering Johnson injected new life into the action franchise, it's difficult to disagree with him. Every sequel since he joined the series in Fast Five has continued to get bigger and arguably better. In addition, since Paul Walker will no longer be part of the franchise, Johnson's presence is more important than ever.
However, fans are surely hoping that Johnson has much bigger role in Fast & Furious 8 than he had in Furious 7 last month. Even though he had one big fight in the beginning, followed by his own "save the day" sequence in the action-packed climax, Johnson was gone for pretty much the entire second act. Thankfully everything that happened without him was insane and awesome enough without him. But there's also a chance we might get to see his character Hobbs in action without the rest of the Fast & Furious crew.
In case you hadn't heard, there have been rumblings of a spin-off film focusing on Johnson as Hobbs in the lead role. Johnson was also asked about the possibility of that film happening, and while there hasn't been any solid development, there's still a chance it could come together. He says:
"We all are interested in it. I just had a big conversation with the studio. So we'll see. I still think for me personally we've created a little bit of space for him in 7 and the gauge is set for what  the audience will want. That's my take on it, you know, but a lot of other people have to have input."
While Johnson is undoubtedly a box office draw, I think a lot of the appeal of Hobbs as a character comes from the dynamic he has with the rest of the Fast & Furious crew now. There's a mutual sense of respect and loyalty that Hobbs has with Vin Diesel as Dom, and I also love how he interacts with Tyrese Gibson as Roman and Ludacris as Tej for comic relief. And if Hobbs gets his own flick, that won't happen.
While I don't have a doubt that Johnson can lead his own film set in the Fast & Furious universe, we've already seen Johnson lead his own team into action in G.I. Joe: Retaliation, so it might just be a little too familiar territory. But then again, he'll be doing something similar with the action comedy Alpha Squad Seven, so we might just have to get used to that (which won't be hard). Either way, it's good to know that we'll get more of Dwayne Johnson in Fast and Furious 8. Otherwise, all we know is that the film might take place in New York this time, which would be a nice change of pace. Stay tuned for more updates.
Are you happy to hear we'll see Dwayne Johnson in Fast and Furious 8? Does he deserve his own spin-off?