Ryan Murphy's 'Scream Queens' Trailer Looks Like 'American Horror Story' Meets 'Glee'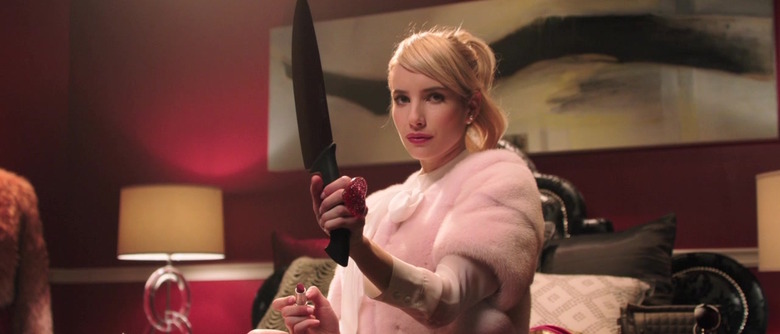 Ryan Murphy is bringing his special brand of crazy to the teen slasher genre this fall with Scream Queens, a horror-comedy anthology series on Fox. Not to be confused with Scream, MTV's new show based the '90s movie franchise, Scream Queens centers on a sorority house rocked by a serial killer known as the Red Devil.American Horror Story alum Emma Roberts plays Kappa House HBIC Chanel, while real-life scream queen Jamie Lee Curtis plays the school dean. The results are pretty much exactly what you'd expect if you told the guy who created Popular, Glee, and American Horror Story to draw up a college show. Watch the Scream Queens trailer after the jump. 
Fox unveiled the new Scream Queens trailer on YouTube.
Scream Queens is created by the same trio that brought us Glee: Murphy, Brad Falchuck, and Ian Brennan. No surprise, then, that it has a similarly over-the-top sensibility. If it's anything like Murphy's other shows, it'll start out as a masterpiece of WTFery before its mounting inconsistencies turn it into borderline unwatchable slog. But hey, those first couple of seasons are going to be fun.
Also starring are Lea Michele, Abigain Breslin, Nasim Pedrad, Oliver Hudson, Skyler Samuels, Keke Palmer, Billie Lourd, Diego Bonita, Glen Powell, Lucien Laviscount, Niecy Nash, Nick Jonas, and Ariana Grande. I assume the cast is so big because a bunch of them are going to get killed off as the season goes on.
Scream Queens premieres this fall on Fox.
The girls of Kappa House are dying for new pledges. SCREAM QUEENS is a new killer comedy-horror series from Ryan Murphy, Brad Falchuk and Ian Brennan, the Emmy- and Golden Globe Award-winning executive producers of GLEE and "American Horror Story."
Wallace University is rocked by a string of murders. Kappa House, the most sought-after sorority for pledges, is ruled with an iron fist (in a pink glove) by its Queen Bitch, CHANEL OBERLIN (Emma Roberts). But when anti-Kappa DEAN MUNSCH (Jamie Lee Curtis) decrees that sorority pledging must be open to all students, and not just the school's silver-spooned elite, all hell is about to break loose, as a devil-clad killer begins wreaking havoc, claiming one victim, one episode at a time. Part black comedy, part slasher flick, SCREAM QUEENS is a modern take on the classic whodunit, in which every character has a motive for murder... or could easily be the next blood-soaked casualty.