The Top 15 Best Bands In Movies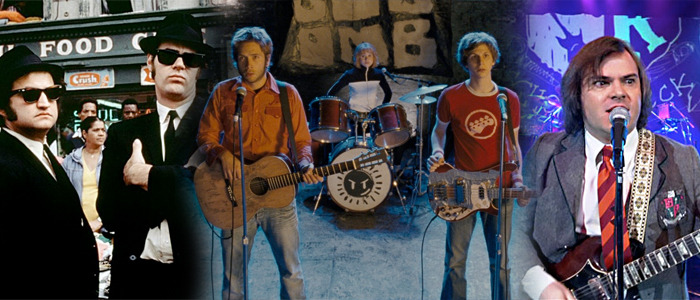 This weekend brings the sequel Pitch Perfect 2 to theaters, featuring a wonderful showcase of music created by Anna Kendrick, Rebel Wilson, Brittany Snow, Hailee Steinfeld and more. Their group The Barden Bellas trots around the globe in an effort to win the world championships of a cappella. Their slick mash-ups and catchy harmonies have made them a sensation on the big screen, and Kendrick even turned into a radio hitmaker with her cute song "Cups."
But The Barden Bellas aren't the only musical groups on film that know how to jam. There are plenty of other fictional bands from cinema that give us a toner (a musical boner). Below, I've rounded up my picks for the Top 15 Best Bands in Movies. Did your favorite big screen musical group make the cut? Find out after the jump!
Before we begin, understand that this is only a countdown of musical groups. Therefore you won't find solo artists like Bad Blake from Crazy Heart, Jessica Rabbit from Who Framed Roger Rabbit?, Dewey Cox from Walk Hard: The Dewey Cox Story, Breathless Mahoney from Dick Tracy, Alpa Chino from Tropic Thunder or Djay from Hustle & Flow. Also keep in mind that this is completely subjective, so you'll have to sound off in the comments when you inevitably disagree with my picks. With all that out of the way, here we go!
#15. The Barden Bellas & The Treblemakers from Pitch Perfect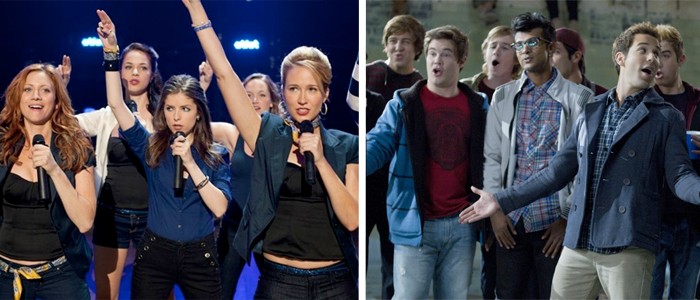 Key Members: Barden Bellas – Beca (Anna Kendrick), Fat Amy (Rebel Wilson), Chloe (Brittany Snow), Aubrey (Anna Camp), Cynthia Rose (Ester Dean), Stacie (Alexis Knapp), Lilly (Hana Mae Lee); The Treblemakers – Bumper (Adam DeVine), Jesse (Skylar Astin), Benji (Ben Platt), Donald (Utkarsh Ambudkar)
Their Best Song: Bellas – Price Tag/Don't You (Forget About Me)/Give Me Everything; Treblemakers – Bright Lights Bigger City/Magic
The list just has to begin with these two battling a cappella groups. I couldn't choose just one of them since they both bring incredible mash-ups to the stage. The rosters for each of the groups get changed up a bit for the sequel, with Hailee Steinfeld being the biggest addition to the Bellas, and Bumper still being estranged from The Treblemakers, but they still deliver plenty of aca-awesome tunes, even if the sequel as a whole doesn't measure up to the quality of the first film. At the very least, these groups can run circles around those kids from Glee.
#14. The Folksmen from A Mighty Wind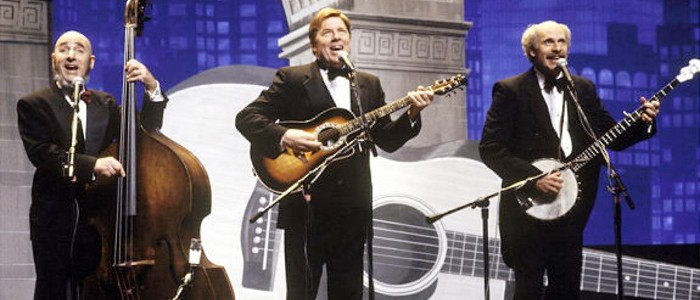 Key Members: Alan Barrows (Christopher Guest), Jerry Palter (Michael McKean) and Mark Shubb (Harry Shearer)
Their Best Song: Old St. Joe's Place
Though you may know The Folksmen best from their appearance in A Mighty Wind, the folk trio actually originated on Saturday Night Live in 1984. They also popped up in The Return of Spinal Tap, the documentary chronicling a real concert put on by another fictional band you might see elsewhere on this list. What's great about The Folksmen is that they've become such an incredible parody of real folk groups like as Peter, Paul & Mary and The Kingston Trio that they ended up being invited to a genuine folk festival held at UCLA in Los Angeles. That's just awesome.
#13. Steel Dragon from Rock Star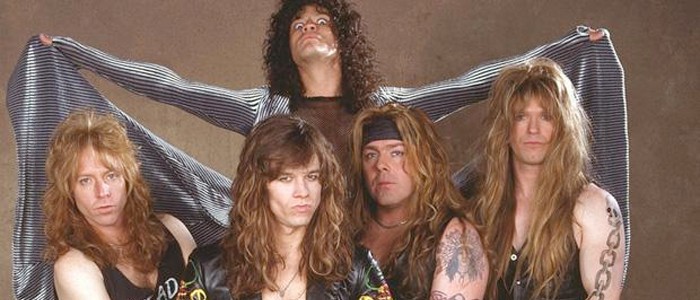 Key Members: Chris "Izzy" Cole (Mark Wahlberg), Kirk Cuddy (Dominic West), A.C. (Jason Bonham), Ghode (Zakk Wylde), Jörgen (Jeff Pilson)
Their Best Song: Stand Up and Shout
Before Mark Wahlberg found a Transformer, he found a gig leading an 80s metal rock band in the 2001 film Rock Star, and the fake band he joined was made up of an actor (Dominic West) and three guys with a long history on real stages (Jason Bonham, Zakk Wylde, and Jeff Pilson). The story is actually based in part on the real life story of of Tim "Ripper" Owens, the lead singer in a Judas Priest tribute band who was actually chosen to replace singer Rob Halford when he left the real Judas Priest. Wahlberg doesn't do his own singing, but this band rocks pretty hard, leather, long hair and all.
#12. The School of Rock from School of Rock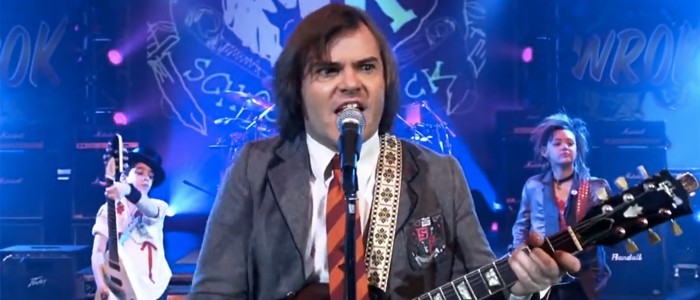 Key Members: Dewey Finn (Jack Black), Zack Mooneyham (Joey Gaydos Jr.), Katie (Rebecca Brown), Lawrence (Robert Tsai), Freddy Jones (Kevin Clarke) and Tomika (Maryam Hassan)
Their Best Song: The School of Rock (Zach's Song)
Dewey Finn (Jack Black) may have illegally posed as a substitute teacher to round up this group of musically talented kids, but we're pretty glad he did. Thankfully they didn't go with their original band name, The Bumblebees, because this group teaches one hell of a lesson in jamming as The School of Rock. All the kids in the band played their own instruments and did their own singing, which makes this band that much cooler. Plus, they even had a little 10-year reunion concert back in 2013, which should make you feel pretty old.
#11. Wyld Stallyns from Bill & Ted's Excellent Adventure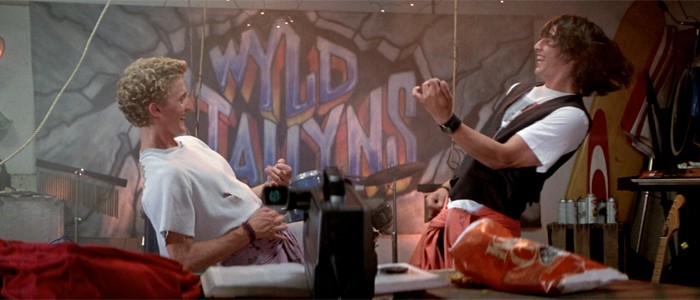 Key Members: Ted Theodore Logan (Keanu Reeves), Bill S. Preston, Esq. (Alex Winter)
Their Best Song: Unknown
Not many bands from the big screen can say that they assembled in order to save the world, but that's exactly what happened with Wyld Stallyns, all after a time traveling adventure through history. What started as a hopeless dream for these lazy teens Bill and Ted turned into a legacy that made them heroes. Death even ended up joining the band at one point! Even though we haven't heard any of the band's music from the future, Rufus reassures everyone during their first real concert, "They do get better." Be excellent to each other, dudes and dudettes.
#10. Crucial Taunt from Wayne's World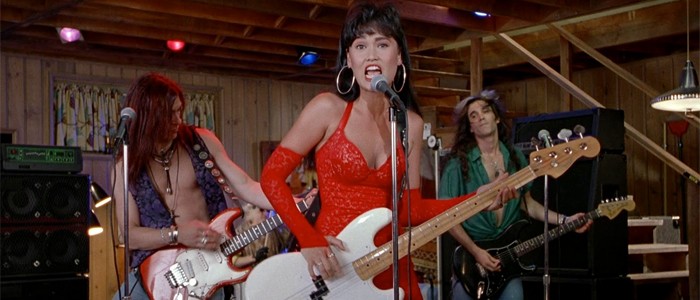 Key Members: Cassandra Wong (Tia Carrere), George Foster, Anthony Focx, Marc Ferrari
Their Best Song: Ballroom Blitz
The Shitty Beatles may suck, but Crucial Taunt can really wail. When Wayne Campbell (Mike Myers) stumbles upon the band at GasWorks, he's immediately smitten by the babealicious Cassandra (Tia Carrere). But besides being his love interest, she really can rock. Her band Crucial Taunt impresses with a cover of Jimi Hendrix's 'Fire' and Private Life's 'Touch Me', but it's their rendition of Sweet's 'Ballroom Blitz' which really solidifies this band as one of cinema's best, especially since they finally get a major record deal in the mega happy ending.
#9. The Soggy Bottom Boys from O Brother Where Art Thou?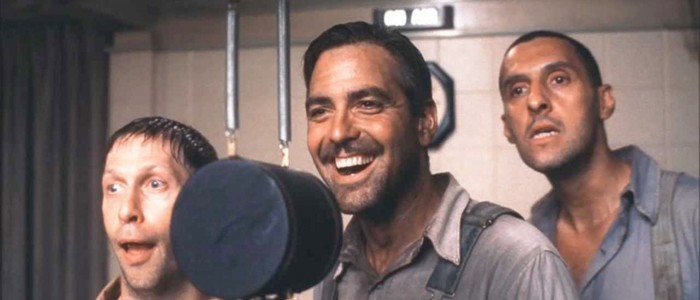 Key Members: Ulysses Everett McGill (George Clooney), Pete Hogwallop (John Turturro) and Delmar O'Donnell (Tim Blake Nelson)
Their Best Song: Man of Constant Sorrow
These dimwitted escaped prisoners sure do make some great music. In fact, they might be the only big screen band to be formed entirely by criminals on the run. Sadly, George Clooney, John Turturro and Tim Blake Nelson didn't do their own singing, but they at least look the part while Dan Tyminski, Harley Allen and Pat Enright provide the vocals. Their rendition of the folk classic 'Man of Constant Sorrow' is catchy as hell, and it even made a surprising splash on the radio during the time that O Brother Where Art Thou? was in theaters.
#8. The Wonders from That Thing You Do!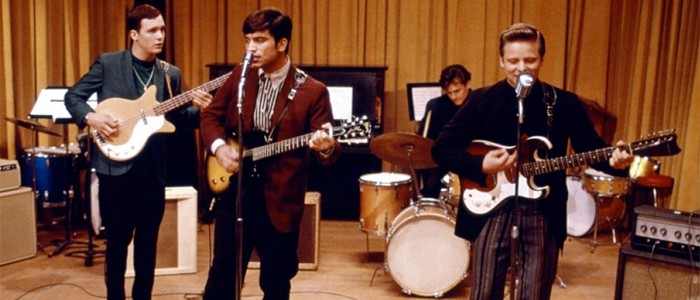 Key Members: Jimmy (Johnathon Schaech), Lenny (Steve Zahn), Guy (Tom Everett Scott) and Ethan Embry, who has no character name other than T.B. Player
Their Best Song: That Thing You Do!
After starting out as The Oneders (not the Oh-need-ers) and becoming The Wonders it only makes sense that this band would be a one-hit wonder. But at least that hit was the insanely catchy tune 'That Thing You Do!'. Again, the song actually became a hit on the radio in the real world, which gives this fake band a firm place in real musical history. The band may have been shortlived, but they made their dreams comes true for at least a fraction of their lives.
#7. Marty McFly and the Starlighters from Back to the Future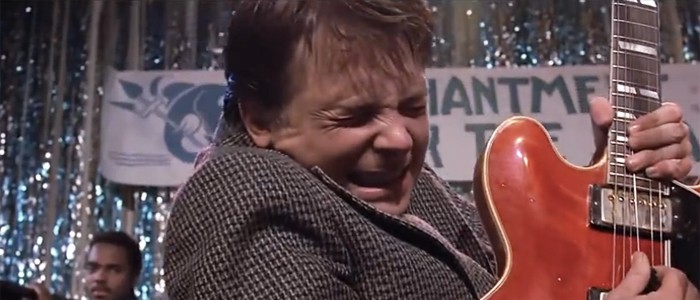 Key Members: Mary McFly (Michael J. Fox) Marvin Berry (Harry Waters Jr.), Tommy Thomas, Granville 'Danny' Young, David Harold Brown, Lloyd L. Tolbert
Their Best Song: Johnny B. Goode
All right, technically the band is Marvin Berry and the Starlighters, but at the Enchantment Under the Sea dance, it's Marty McFly (Michael J. Fox) who steps up to save the band after their leading man slices his hand open. McFly initially keeps things cool with a rendition of 'Earth Angel' (though he starts being erased from existence in the middle of it), but then he does something that really cooks. Marvin Berry may be the frontman, but if it wasn't for McFly, we may never have gotten 'Johnny B. Goode' from Chuck Berry. That's just science.
#6. Dr. Teeth and the Electric Mayhem from The Muppet Movie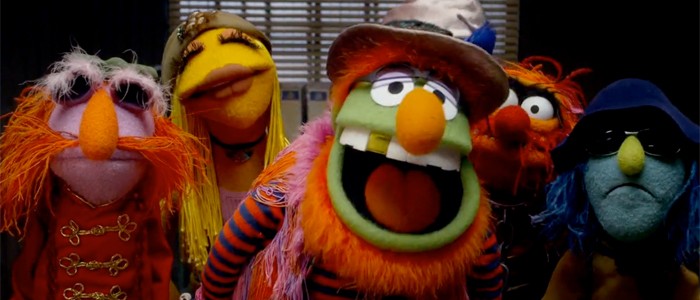 Key Members: Dr. Teeth (Jim Henson), Animal (Frank Oz), Sgt. Floyd Pepper (Jerry Nelson), Janice (Richard Hunt), Zoot (Dave Goelz), Lips (Steve Whitmire),
Their Best Song: Can You Picture That?
Even though this Muppet rock band got their start on television with The Muppet Show, Dr. Teeth and his crew eventually headed to the big screen with The Muppet Movie and The Muppets Take Manhattan. They've got soul, and they also help progress the movie with montage songs. Though the voice line-up behind the band has changed over the years, due to the death of Jim Henson and the retirement of some of the other puppeteers, the band still plays on today. Will they be part of the new ABC series The Muppets coming this fall? It's almost a guarantee.
#5. Sex Bob-Omb from Scott Pilgrim vs. The World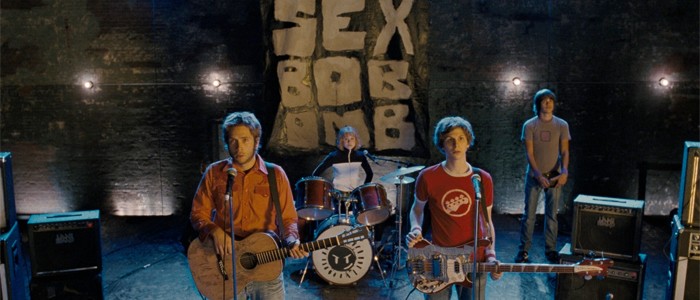 Key Members: Stephen "The Talent" Stills (Mark Webber), Scott Pilgrim (Michael Cera) Kim Pine (Alison Pill), 'Young' Neil Nordegraf (Johnny Simmons).
Their Best Song: Launchpad McQuack (that's not the actual title of the song)
Wyld Stallyns may have saved the world, but Sex Bob-Omb had to deal with the romantic angst and flakiness of their bassist Scott Pilgrim (Michael Cera) and fight the powerful Katayanagi twins in a literal battle of the bands. They may have sold out to Gideon Gordon Graves (Jason Schwartzman) in the end, but it's hard to resist a record deal from the G-Man. Anyway, eventually they end up giving Scott Pilgrim the boost he needs to kick in the teeth of Graves, and they even sound better without him in the band anyway.
#4. Figrin D'an and the Modal Nodes from Star Wars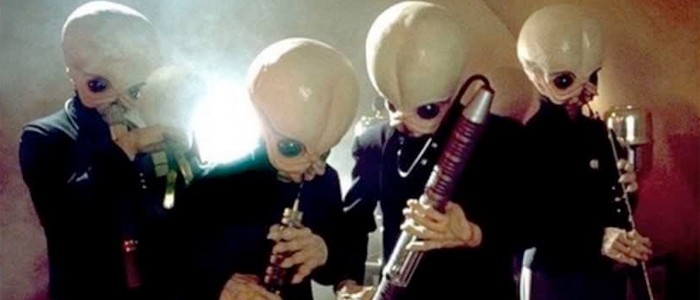 Key Members: Figrin D'an, Nalan Cheel, Tend Dahai, Doikk N'ats, Ickabel G'ont, Tech Mo'r
Their Best Song: Cantina Band #1
It takes some real balls to be the house band in the wretched hive of scum and villainy that is the Mos Eisley Cantina, but Figrin D'an and the Modal Nodes barely bat an eye after Obi-Wan Kenobi cuts off Ponda Baba's arm. They just go right back to playing. The cantina band is infinitely better than The Max Rebo Band at Jabba's Palace, if only because Sy Snootles has one of the most annoying singing voices in the entire galaxy. It's a real shame too, because Max Reebo and Droopy McCool are very talented musicians.
#3. The Blues Brothers from The Blues Brothers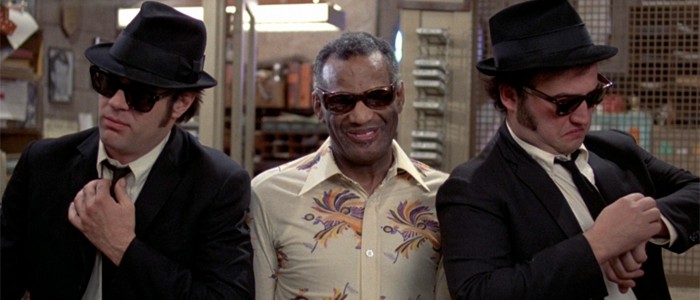 Key Members: "Joliet Jake Blues (John Belushi), Elwood Blues (Dan Aykroyd), Steve "The Colonel" Cropper, Donald "Duck" Dunn, Murphy "Murph" Dunne, Willie "Too Big" Hall, Tom "Bones" Malone, "Blue Lou" Marini, Matt "Guitar" Murphy, Alan "Mr. Fabulous" Rubin
Their Best Song: Sweet Home Chicago
Even if you don't like blues music, it's hard not to fall in love with The Blues Brothers. Calling all the way back to the classic days of "Saturday Night Live," this duo became the first feature film to spawn from the late night sketch series. But these brothers are legendary because they've actually released real albums, went on tour around the country, and have stood the test of time following the death of John Belushi. Their legacy was tainted slightly by Blues Brothers 2000, but it didn't do any permanent damage. It's even hard to pick their best song since they collaborate with so many legends in the movie.
#2. Spinal Tap from This is Spinal Tap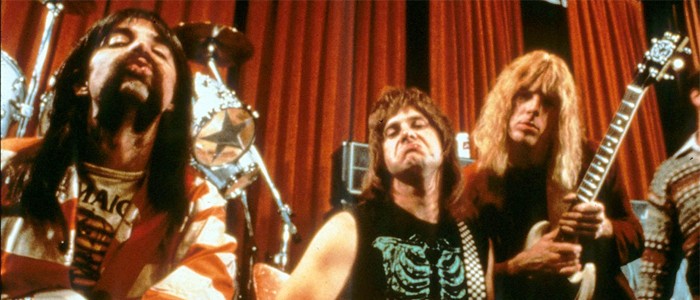 Key Members: David St. Hubbins (Michael McKean), Nigel Tufnel (Christopher Guest), Derek Smalls (Harry Shearer), Vic Savage (David Kaff), Mick Shrimpton (R.J. Parnell)
Their Best Song: Tonight I'm Gonna Rock You Tonight
If The Folksmen didn't do it for you, then this other assembly of Michael McKean, Christopher Guest and Harry Shearer should do the trick. The phrase "turn it up to 11" is now a common quote when it comes to talking about music, and that's because of This is Spinal Tap, the mockumentary that follows this British band on tour. And yet again, what's truly fantastic about Spinal Tap is that they've become a real life touring band around the world, and they even had the song we featured above included as a playable track on the video game Guitar Hero II.
#1. Stillwater from Almost Famous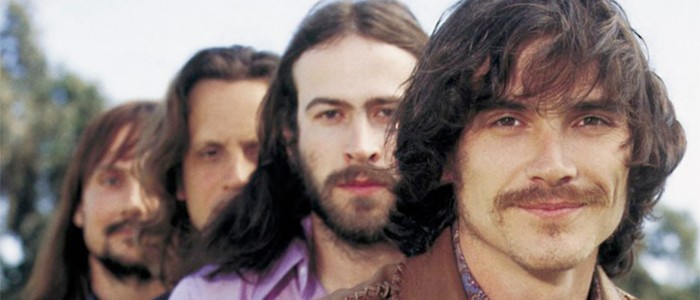 Key Members: Jeff Bebe (Jason Lee), Russell Hammond (Billy Crudup), Larry Fellows (Mark Kozelek), Ed Vallencourt (John Fedevich)
Their Best Song: Fever Dog
The guitar sound is incendiary. Way to go. We don't have the time to write a think piece about the midlevel band struggling with their own limitations in the harsh face of stardom. But we do have time to praise what I consider to be the greatest fictional band in cinema's history. What do I love about Stillwater? To begin with...everything. Based in part on Black Sabbath and the real-life experience director Cameron Crowe had as a young, budding journalist, Stillwater is the perfect depiction of a rock band from the 70s. This group toured hard and rocks even harder, with all the complications of a band rising to fame in a world riddled with acid, adultery and airplane mishaps.
Honorable Mentions
Tenacious D from Tenacious D in the Pick of Destiny
Infant Sorrow from Forgetting Sarah Marshall
The Weird Sisters from Harry Potter and the Goblet of Fire
Löverburger from Can't Hardly Wait
Sonic Death Monkey/Kathleen Turner Overdrive/Barry Jive and the Uptown Five from High Fidelity
Hedwig and the Angry Inch from Hedwig and the Angry Inch
Autobahn from The Big Lebowski
The Lone Rangers from Airheads
Sexual Chocolate – Coming to America
The Max Rebo Band from Return of the Jedi
Adult Education from She's Out of My League
The Rutles from All You Need is Cash
Soronprfbs from Frank
CB4 from CB4
So there you have it. Those are my picks for the Top 15 Best Bands in Movies. I'm pretty confident in my choices, but there's obviously going to be dissension in my ranking in the comments, so fire away. At the same time, there are probably some bands that I missed in the honorable mentions, so feel free to refresh my memory.
Of course, these are only bands from the world of movies. If you like this list, I may just have to go back and do a separate list for the best bands from television, because there's plenty of those too. We'll see what happens.
What do you think of my Top 15 Best Bands in Movies? What are your favorite bands from the big screen?