'Agent Carter' Moving To LA For Season 2; 'SHIELD' Spinoff Still A Possibility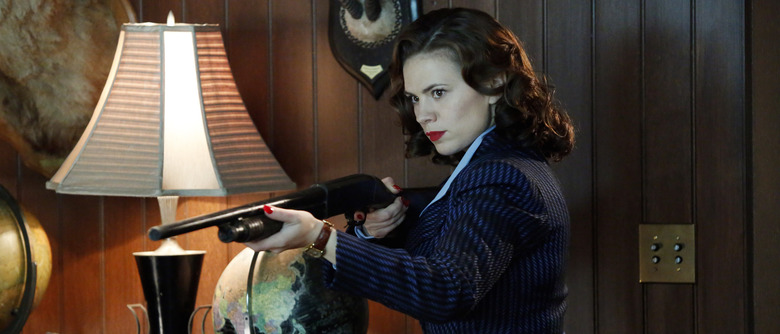 Some exciting updates from the small-screen corner of the Marvel Cinematic Universe: ABC has revealed an intriguing official synopsis for the recently announced second season of Agent Carter. Among other things, it reveals that our titular heroine will be ditching NY for LA.
Meanwhile, it turns out that the scrapped Agents of S.H.I.E.L.D. spinoff could, like so many characters in the MCU, come back from the dead. Get the Agent Carter Season 2 synopsis and the S.H.I.E.L.D. spinoff update after the jump. 
ABC announced today that Agent Carter Season 2 will air during a hiatus for Agents of S.H.I.E.L.D. in the middle of the 2015-2016 season, just as Agent Carter Season 1 did in the current 2014-2015 season. The official synopsis for the second season of Agent Carter reads as follows:
"MARVEL'S AGENT CARTER" (Season 2) "Marvel's Agent Carter" returns for a second season of adventure and intrigue, starring Hayley Atwell in the titular role of the unstoppable secret agent for the SSR (Strategic Scientific Reserve). Dedicated to the fight against new atomic age threats in the wake of World War II, Peggy must now journey from New York City to Los Angeles for her most dangerous assignment yet. But even as she discovers new friends, a new home — and perhaps even a new love — she's about to find out that the bright lights of the post-war Hollywood mask a more sinister threat to everyone she is sworn to protect.
The new setting opens up all sorts of exciting possibilities for Peggy. The '40s and '50s are the era of film noir and the Hollywood blacklist, so there's a lot for Peggy to explore there. Or, this being set in an entirely fictional universe, the show could ignore historical events entirely and just have Peggy do her same old ass-kicking routine, only in a sunnier setting. Either is fine with me.
The major potential downside, though, is that Peggy's friends and colleagues may not make the move with her. Hayley Atwell is the only cast member named in the new press release, and therefore the only star confirmed so far for Season 2.
Hopefully it won't be too difficult for the show to at least work Howard Stark (Dominic Cooper) and Edwin Jarvis (James D'Arcy) into the new storyline. (Will Cooper's schedule for Preacher be a problem?) We know from the Iron Man films that House Stark has some roots in LA, after all. And hey, Angie Martinelli (Lyndsy Fonesca) is an aspiring actress. What better place for her to wind up than Hollywood?
In other MCU TV news, there's hope the proposed Agents of S.H.I.E.L.D. spinoff featuring Bobbi Morse / Mockingbird (Adrianne Palicki) and Lance Hunter (Nick Blood) could still happen. It just won't be in the 2015-2016 season.
ABC Entertainment president Paul Lee explained that while he's leaving open the "possibility" of revisiting the spinoff idea in the future, they decided not to proceed this coming season because the characters were so good on Agents of S.H.I.E.L.D. this past season. "We thought the right thing now is to leave them on S.H.I.E.L.D., because S.H.I.E.L.D. is so strong at the moment," he said.
A bit vague, perhaps, but at least it's more than Lee's willing to say about the other MCU spinoff in the works at ABC. "I can't talk about the John Ridley one, other than to say that he's working on it," he said.