'Sicario' Poster: Peering Into Darkness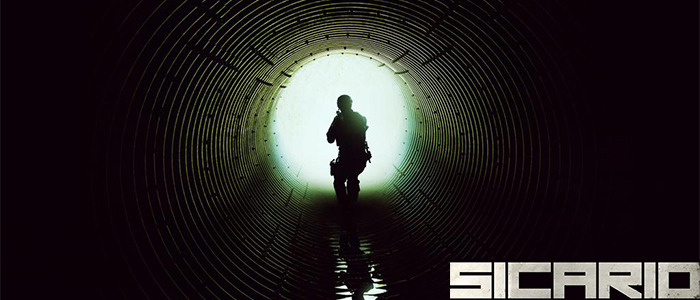 Prisoners director and cinematographer team Denis Villeneuve and Roger Deakins reunite for Sicario, a film set in the dangerous borderlands between the US and Mexico. Emily Blunt, Josh Brolin, Benicio del Toro, and Jon Bernthal star in a story that looks into the darker corners of the war on drugs. We recently saw some images from the film which, free of context, weren't all that compelling. But the first Sicario poster is terrific, and you can see that in full (along with those images) below. 
To whet your appetite for the movie, Villeneuve called Sicario, scripted by Taylor Sheridan, "a very dark film, a dark poem, quite violent... It's about the alienation of the cycles of violence, how at one point we are in those spirals of violence and ask ourselves, 'Is there a solution?' My movie raises the question; it doesn't give any answer."
This poster, the first image in the gallery below, definitely hints at that approach — it's like a take on the classic Bond "gun barrel" image, rendered as a more grittily realistic and recognizable shot.
Sicario will play Cannes in about a week, and will see US release on September 18. Poster via IMPAwards.
In Mexico, Sicario means hitman. In the lawless border area stretching between the U.S. and Mexico, an idealistic FBI agent is enlisted by an elite government task force official to aid in the escalating war against drugs. Led by an enigmatic consultant with a questionable past, the team sets out on a clandestine journey forcing Kate to question everything that she believes in order to survive.