Sam Claflin Returning For 'The Huntsman', Without Snow White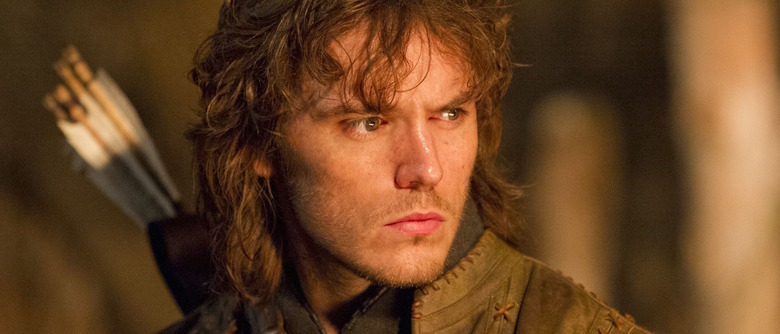 Kristen Stewart's Snow White may not be returning for The Huntsman, but it seems like everyone else is. Sam Claflin is the latest to board the fantasy spinoff, joining Charlize Theron, Chris Hemsworth, Emily Blunt, Jessica Chastain, and Nick Frost. Get all the latest updates on The Huntsman after the jump. 
The Sam Claflin The Huntsman casting was reported by TheWrap. Claflin starred in the first film as William, Snow White's childhood friend. He basically fills the prince role from the classic Snow White fairy tale. Claflin will have a small supporting role in The Huntsman, although just how he figures into the story is unclear.
The Huntsman picks up with Queen Ravenna (Theron) and Eric the Huntsman (Hemsworth) years before Snow White ever entered their lives. Eric goes in search for a magic mirror, which stirs up some bad blood between him and the Snow Queen (Blunt), who also happens to be Ravenna's sister.
Frost returns as a dwarf, accompanied by Rob Brydon, Alexandra Roach, and Sheridan Smith who were not in the first film. Chastain's role has not been revealed.
Cedric Nicolas-Troyan, the VFX wizard who worked on Snow White and the Huntsman, makes his feature directing debut with The Huntsman. Frank Darabont (The Walking Dead) wrote the script. Earlier drafts were penned by Craig Mazin (Identity Thief) and Evan Spiliotopoulos (Hercules). Producer Joe Roth and executive producer Palak Patel return from the first film.
Claflin currently stars as Finnick Odair in the Hunger Games franchise, which wraps up this fall with Mockingjay – Part 2. He's also known for appearing in Pirates of the Caribbean: On Stranger Tides, and was recently said to be circling Star Wars: Rogue One.
Outside of big-budget action franchises, Claflin's resume includes the romantic comedy Love, Rosie, the thriller The Riot Club, and the horror The Quiet Ones. In addition, he recently signed on for a biopic of 1970s U.K. soccer legend Robin Friday.
The Snow White-less The Huntsman opens April 22, 2016.