Natalie Portman In Talks For Alex Garland's Adaptation Of 'Annihilation'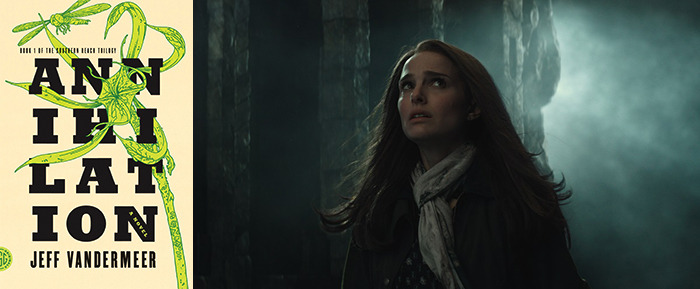 The novel Annihilation, by Jeff VanderMeer, is really terrific. It's good enough that you should just stop reading this now, go read Annihilation (it's short, only 125 pages or so) then come back. Because I'm a realist I'll assume you didn't do that, but to avoid spoilers about the novel I'll just say this: Annihilation is kind of sci-fi and almost horror — it's like Tarkovsky's Stalker crossed with H.P. Lovecraft. It is unusual and unsettling, and all the major characters are women.
Alex Garland just did some great work with Ex Machina, and he is set to write and direct an Annihilation movie. Now he has Natalie Portman in talks to play the lead role. That is excellent news.Annihilation takes place primarily in a mysterious space called Area X that is essentially walled off from the rest of human civilization, and in which some natural laws behave a bit differently. Several expeditions have been sent into the zone to study aspects of the place, and the novel picks up with the twelfth expedition crossing the border into Area X.
When we pick up with the team there are four women, identified only by their specialties: a psychologist, a surveyor, and anthropologist, and a biologist. There's another character seen in flashbacks, and the potential for a couple of other roles, but that quartet plus one is pretty much the cast.
Per Variety, Natalie Portman is in talks to play the Biologist. She narrates the novel and is, perhaps obviously, the primary character.
After reading the book I knew a movie wouldn't be far away, and there is incredible potential here for a weird, great film. Something along the lines of, well, Ex Machina. But it would also be very easy for someone to take exactly the wrong approach — amp up the weird stuff into setpieces and violence, dumb down the deep introspection that we get from the Biologist's narration.
Having Alex Garland on this, with Scott Rudin producing, not to mention Portman as potential star, is all very exciting. Reports also say that Tilda Swinton and Julianne Moore are circling one of the major supporting roles, but setting up Portman's deal — which is contingent upon this shoot holding off until early 2016 — is the first step.
On the surface, I'm excited by the notion of Tilda Swinton playing the Psychologist, but I'm told there are details revealed in the second and third books that follow Annihilation that make that not an ideal choice. (I'm just getting into the second book now — no comment spoilers, please.) We'll see how that works out; the role in question could also be the Surveyor.
Here's an account of the novel which has more details about the setup, but doesn't give anything away.
Area X has been cut off from the rest of the continent for decades. Nature has reclaimed the last vestiges of human civilization. The first expedition returned with reports of a pristine, Edenic landscape; the second expedition ended in mass suicide, the third expedition in a hail of gunfire as its members turned on one another. The members of the eleventh expedition returned as shadows of their former selves, and within weeks, all had died of cancer. In Annihilation, the first volume of Jeff VanderMeer's Southern Reach trilogy, we join the twelfth expedition.
The group is made up of four women: an anthropologist; a surveyor; a psychologist, the de facto leader; and our narrator, a biologist. Their mission is to map the terrain, record all observations of their surroundings and of one anotioner, and, above all, avoid being contaminated by Area X itself.
They arrive expecting the unexpected, and Area X delivers–they discover a massive topographic anomaly and life forms that surpass understanding–but it's the surprises that came across the border with them and the secrets the expedition members are keeping from one another that change everything.