New 'Dope' Trailer: Allow Shameik Moore To Reintroduce Himself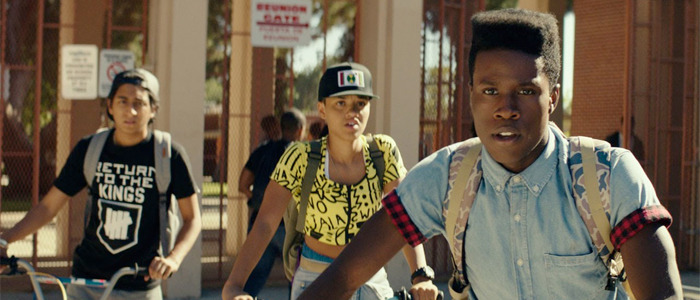 One of the most buzzed-about titles out of the Sundance Film Festival was undoubtedly the energetic comedy Dope from director Rick Famuyiwa. We've already seen a creative teaser trailer, and a much more informative theatrical trailer for the flick, starring Shameik Moore in a breakout performance, but one more couldn't hurt. This one offers a quick new glimpse into the film with the help of a signature track from chart-topping artist Kendrick Lamar. I hear the kids think he's quite the fine rapper. Watch the new Dope trailer after the jump.
Here's the new trailer for Dope, from BET:
If this movie doesn't become a breakout hit with teens, it's bound to become a cult classic. It's a fresh approach to the teen comedy with unique characters and a setting that makes it unlike any other film of its kind. Helping Shameik Moore in his stupendous lead performance are co-stars Tony Revolori (The Grand Budapest Hotel) and Kiersey Clemons (Extant). And Workaholics star Blake Anderson pops up for a fun supporting role as well. This is a gem you won't want to miss this summer.
The soundtrack of this film deserves just as much praise as any other element. Aside from the fantastic pre-existing hip-hop songs used in the film, Grammy winner Pharrell also composed a lively original soundtrack, including four songs created for the main characters' band in the film.
A critical hit and audience favorite out of the Sundance Film Festival, in DOPE, Malcolm (Shameik Moore) is carefully surviving life in a tough neighborhood in Los Angeles while juggling college applications, academic interviews, and the SAT. A chance invitation to an underground party leads him into an adventure that could allow him to go from being a geek, to being dope, to ultimately being himself.
Dope hits theaters this summer on June 19th.
Will you go out of your way to see Dope? What other indie movies are you looking forward to this summer?