'Vacation' Red Band Trailer: Walley World Here We Come!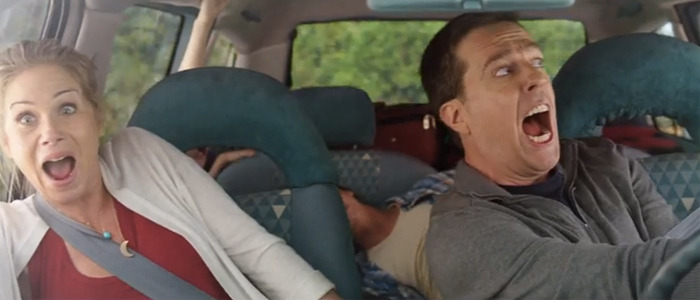 We've been hearing all sorts of positive buzz from behind the scenes about Warner Bros. Pictures and New Line Cinema's reboot of the comedy classic Vacation. The film was bumped up from an initial fall release to a much more confident summer date, and now the first red band trailer has arrived to show us what all the fuss was about. Surprisingly, this looks absolutely hilarious. Watch the Vacation red band trailer after the jump.
Vacation Red Band Trailer
That little exchange between Ed Helms and his son, who's never heard of the original vacation, shows that this comedy is well aware of the legacy the classic comedy has, but isn't afraid to journey on its own path. This is certainly more raunchy and vulgar than the first film, but it looks extremely funny. But it's nice to see the film still has roots since Rusty has inherited some of his father's cluelessness about life and rimjobs.
Christina Applegate also stars in the film as Rusty's wife, with Skyler Gisondo (Night at the Museum: Secret of the Tomb) and Steele Stebbins (A Haunted House 2) as their kids. In addition, Leslie Mann plays Audrey Griswold and Chris Hemworth plays her husband, and as you can see, he's carrying around more than Thor's hammer in this flick. Oh, and in case you didn't notice, Chevy Chase and Beverly D'Angelo are back as Clark and Ellen Griswold.
Directing the film is John Francis Daley & Jonathan Goldstein (writers of Horrible Bosses), working from a script they wrote based on characters created by John Hughes. It looks like these two have a bright future in directing comedies ahead of them.
Following in his father's footsteps and hoping for some much-needed family bonding, a grown-up Rusty Griswold (Ed Helms) surprises his wife, Debbie (Christina Applegate), and their two sons with a cross-country trip back to America?s "favorite family fun park," Walley World.
Vacation hits theaters late this summer on July 29th (that's a Wednesday).