Emily VanCamp Returning As Agent 13 For 'Captain America: Civil War'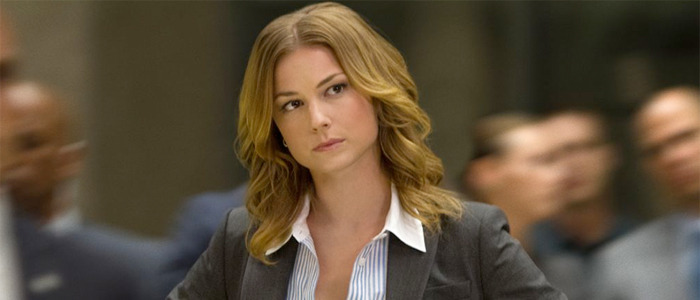 The cast of Captain America: Civil War just keeps getting bigger. While the biggest addition to the third film in Captain America's film franchise is undoubtedly Robert Downey Jr. as Tony Stark facing off against Chris Evans as Steve Rogers, there's plenty of other familiar faces from the rest of the Marvel cinematic universe involved in the film. Now one more has entered — or re-entered — the fray as Emily VanCamp joins Captain America: Civil War, reprising her role from Captain America: The Winter Soldier. Could this film finally give us the true identity of this S.H.I.E.L.D. agent?
Deadline has news of VanCamp returning to the Marvel universe after playing a pivotal role in the second film in the Captain America storyline. The Revenge star played Agent 13, an operative of S.H.I.E.L.D. posing as Steve Rogers' neighbor but really tasked with protecting him when he's not out on missions.
However, now that S.H.I.E.L.D. has been dismantled after having been revealed to be infiltrated and corrupted by Hydra, we're not sure what Agent 13 has been up to. The end of Winter Soldier saw her preparing to join the FBI, the next best job she was suited for after being a  S.H.I.E.L.D. agent. Will we still find her working for the FBI in Civil War, or will Nick Fury have recruited her for help?
No matter what Agent 13's role will be in the plot, the one thing we're hoping for is the reveal that she's actually Sharon Carter, the niece of Cap's 1940s love interest Peggy Carter (Hayley Atwell). Agent 13 is well-known to be Peggy's niece in the comics, but the films have yet to establish this tie to Cap's past. Even though this film will have a lot of other characters involved, this is still Captain America's story. If this details is revealed to Rogers in Civil War, it's bound to change their dynamic significantly.
Aside from the storyline we know from the comics, we don't know much about how Civil War will play out on the big screen. This synopsis surfaced before Age of Ultron was released, but it's still fairly vague as far as details are concerned:
Following the events of Age of Ultron, the collective governments of the world pass an act designed to regulate all superhuman activity. This polarizes opinion amongst the Avengers, causing two factions to side with Iron Man or Captain America, which causes an epic battle between former allies.
VanCamp joins a cast that's nearly as crowded as the roster for The Avengers: Age of Ultron. In addition to the return of Chris Evans as Captain America and Robert Downey Jr. as Tony Stark, the cast also includes Scarlett Johansson as Black Widow, Elizabeth Olsen as Scarlet Witch, Anthony Mackie as Falcon and Jeremy Renner as Hawkeye. Frank Grillo is also supposed to come back as the villain Crossbones, and Sebastian Stan will again be back as Bucky Barnes.
New cast members include Rush star Daniel Bruhl as the villain Baron Helmut Zemo and The Hobbit trilogy star Martin Freeman in an unknown role. There's likely some other new cast members yet to be revealed, so stay tuned to see who else signs up.
Don't forget that Captain America: Civil War will be the first film to use a new IMAX camera, the digital 2D system co-developed by IMAX and Arri. That means this third film in the Captain America franchise won't be in 3D, which is just fine by me.
Captain America: Civil War is set to hit theaters on May 6th, 2016.
Are you happy to hear Emily VanCamp joins Captain America Civil War?