SyFy & Steven Spielberg's Amblin Team For 'Brave New World' TV Series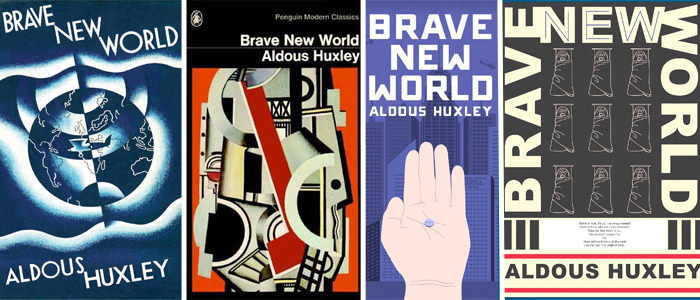 We may receive a commission on purchases made from links.
Just after greenlighting a TV series adaptation of Lev Grossman's fantasy novel The Magicians, this time SyFy is reaching into the classic library for a new project. Today the network announced they will reteam with Steven Spielberg's Amblin Television for a Brave New World TV series, based on Aldous Huxley's 1932 dystopian sci-fi classic of the same name.
Brave New World is widely regarded as one of the best English-language novels of all time, and its status as a classic and an influential piece of writing is undeniable. Within Huxley's novel lies the inspiration for countless works of sci-fi that have blossomed since then. If you have somehow not stumbled upon the novel, here's the official synopsis from Amazon:
"Community, Identity, Stability" is the motto of Aldous Huxley's utopian World State. Here everyone consumes daily grams of soma, to fight depression, babies are born in laboratories, and the most popular form of entertainment is a "Feelie," a movie that stimulates the senses of sight, hearing, and touch. Though there is no violence and everyone is provided for, Bernard Marx feels something is missing and senses his relationship with a young women has the potential to be much more than the confines of their existence allow.
Marx is someone who doesn't conform to this society's standards, and is therefore forced into a "reservation." But that's when he challenges the system, threatening to upend the entire social structure. If that sounds like The Hunger Games and Divergent or any other recent young adult sci-fi novel, that's because those stories (and countless others) have borrowed elements from Brave New World. Huxley's book was far ahead of its time.
Back in 2009, director Ridley Scott had acquired Brave New World for a film adaptation after chasing the project for a couple decades. But it seems like Scott got busy with all the other projects he has developed and directed over the years, or he just couldn't crack it for the big screen. Maybe it's the kind of story that shouldn't be contained to a two-hour film.
Dave Howe, President, Syfy & Chiller, hyped up the developing project in the press release:
"Brave New World is one of the most influential genre classics of all time. Its provocative vision of a future gone awry remains as powerful and as timeless as ever. Promising to be a monumental television event, Brave New World is precisely the groundbreaking programming that is becoming the hallmark of Syfy."
The project reteams SyFy and Amblin Television after they won an Emmy for Best Miniseries in 2003 with the alien abduction drama series Taken, which was also nominated for six other Emmys. In fact, the writer of that acclaimed miniseries, Les Bohem, will be back scripting Brave New World. Executive producing for Amblin will be Darryl Frank and Justin Falvey, who call this "just the project we've been waiting for, to bring the band back together."
While this sounds like a wholly exciting endeavor, there's definitely a problem with adapting a sci-fi book from 1932. Because Brave New World influenced so much sci-fi in the 83 years since it was published, some of the concepts in the novel may not feel fresh to contemporary audiences. That was one of the problems with last year's forgettable big screen adaptation of The Giver. The story just felt derivative and stale, despite being the one of the earliest stories of its kind. Here's hoping SyFy and Amblin are able to make it work for modern audiences.
Are you interested in a Brave New World TV series?