Disney Infinity 'Star Wars' Trailer And Featurette Take Us To Another Universe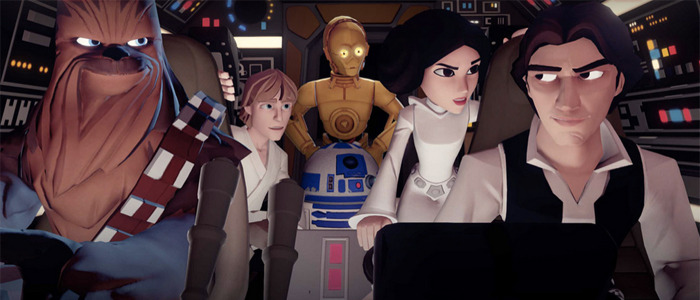 Dozens of Walt Disney's trademark characters have already become part of Disney Infinity, the open-world, figure-based video game from The House of Mouse. Mostly the game has focused on Pixar characters from Cars, Toy Story The Incredibles and Monsters Inc., as well as Walt Disney Animation hits Frozen and Wreck-It Ralph. But things have gotten really interesting for the game lately with Marvel heroes entering the mix. But things are about to get even bigger with the arrival of Disney Infinity Star Wars. Hit the jump to watch the first Disney Infinity Star Wars trailer.
In our last round of Star Wars Bits in April, we got a first look at Disney Infinity 3.0, which will expand into a galaxy far, far away. But now a trailer from Disney Infinity and a behind the scenes featurette from Game Informer has given us a little more insight into what we can expect from this update to Disney's successful video game world. Check it out:
Disney Infinity Star Wars Trailer
I haven't dived into Disney's video game creation just yet, but it seems to be a huge hit with kids. These little figures have cool enough designs that they would just look good on a shelf if they weren't so expensive. And I have to admit, that they do look pretty fun in action, even if the graphics are meant to be very cartoonish
There are a lot of die hard fans who don't like to see Star Wars dulled down for younger audiences like this, but there's plenty of cool Star Wars creations that have been geared towards kids that have turned out all right. Star Wars Rebels is a pretty solid animated series (the second season premieres in June) and Clone Wars before that was also very well done. And as far as video games are concerned, LEGO Star Wars was an absolute blast to play.
Of course, if Disney Infinity doesn't sound like your kind of party, you can still look forward to the arrival of the newest Star Wars Battlefront on Xbox One and PlayStation 4 later this year. It's supposed to offer some lead-up to Star Wars: The Force Awakens, and that's something fans will surely want to absorb. And beyond that, heading into battle with the familiar vehicles and locations of the Star Wars universe with the current generation video game systems should be quite enjoyable.
Disney Infinity 3.0 with Star Wars arrives this fall. You can pre-order it right here.
Are you excited for Star Wars on Disney Infinity? Which character are you most excited to play with?