VOTD: Arnold Schwarzenegger Recreates All His Movies In Six Minutes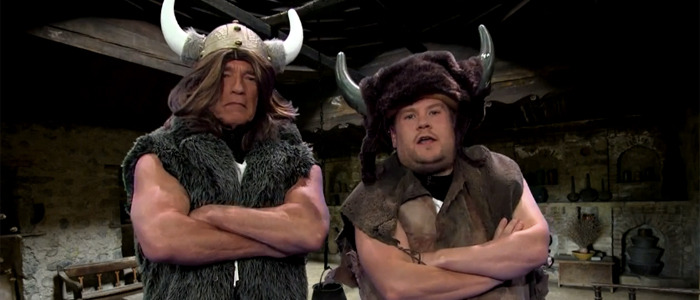 Back when Into the Woods star James Corden had his debut episode taking over The Late Late Show from Craig Ferguson, he had Tom Hanks help kick things off with a bang by acting out the Oscar-winner's entire filmography in less than seven minutes. It was quite the amusing bit, and now Corden is back with another Hollywood icon to do it all over again. This time it's Terminator franchise star Arnold Schwarzenegger, and the pair does all his movies in six minutes.
Here's the video from The Late Late Show last night:
Even though Schwarzenegger has made some downright terrible comedies, not to mention movies that are so bad you can't help but laugh, it's always cool to see him having fun like this. Schwarzenegger is just a big ham, and he loves being a movie star. I'm not sure fans are loving him as much in this later phase of his career, but we'll see what they think of Terminator: Genisys this summer. (Watch the most recent trailer if you haven't already.)
In the meantime, this weekend brings the indie zombie drama Maggie to theaters. The film stars Arnold Schwarzenegger as the father of a recently infected teenage girl (Abigail Breslin) as he fights to keep her out of quarantine, though she's slowly losing herself to the virus. The film will be in limited theaters starting this weekend, and if you haven't watched the trailer, see it right here.
Did you enjoy Arnold Schwarzenegger's journey through his filmography? Which movies are your favorites?