Michael Rooker Asked James Gunn To Put Jason Mewes In 'Guardians Of The Galaxy 2'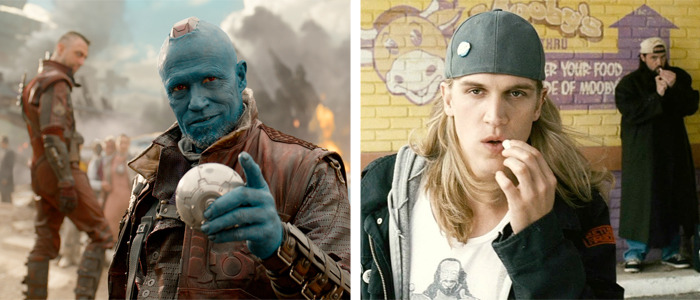 There's plenty to enjoy in the surprising Marvel Studios hit Guardians of the Galaxy. Most of the praise for the flick goes to director James Gunn and the primary cast of characters who play the titular ragtag team of misfits. But there's one actor who deserves some more recognition, and that's Michael Rooker, who plays the sort-of redneck (or blueneck) Ravager named Yondu.
Rooker is a regular in the films by James Gunn, so much that the two are also very good friends. So it should come as no surprise that if Rooker wants to run something by the filmmaker, he just needs to pick up his cell phone. And that's exactly what happened as the actor asked the director to put Mallrats co-star Jason Mewes in Guardians of the Galaxy 2.
The man who played the blue-skinned, metallic mohawked, arrow-whistling Ravager appeared at Wizard World Minneapolis (via Bleeding Cool) this past weekend along with Kevin Smith's longtime friend and co-star. During the panel, he took the time to phone Gunn to ask if Mewes could take a break from being one half of Jay & Silent Bob in order to join the Ravagers in Guardians of the Galaxy 2. But he has a very specific character trait in mind for Mewes' character. We'll let you hear it from Rooker himself in this video:
In case you don't have two minutes, or you hate vertical video from a phone, we'll explain what happened. Basically, Rooker says the audience wants Mewes to be a Ravager, but one who "goes both ways." However, Gunn fires back with an ever better idea: Jason Mewes replacing Michael Rooker as Yondu.
Don't worry, this is all just in good fun. But at the same time, putting Mewes in Guardians of the Galaxy 2 isn't entirely out of the question. After all, Nathan Fillion voiced the big, buff, blue alien who threatens Star-Lord when he arrives in prison, so it wouldn't be hard for Mewes to get a similar unrecognizable cameo so as not to be too distracting to audiences.
But if this doesn't really come to fruition, fans will just have to settle for Jason Mewes and Michael Rooker reuniting in Mallrats 2 next year. Kevin Smith confirmed that both Mewes and Rooker would be back, along with Marvel legend Stan Lee, for the comedy sequel that is now Smith's next film. However, there's no guarantee that Rooker and Mewes will be on screen together. If I remember correctly, I don't think they shared a single scene in the first Mallrats. But I digress.
Anyway, we're still very much in the dark when it comes to Guardians of the Galaxy 2. Previously, we've heard the film puts a heavy emphasis on family, especially with a focus on Star-Lord's estranged father. But the rest of the Guardians will have a little more revealed about them as well. Production doesn't begin until February 2016 in Atlanta, but we're hoping to hear some real development news on the sequel soon, so stay tuned.
Would you want to see Jason Mewes pop up in Guardians of the Galaxy 2? Who else needs a cameo in the sequel?