Check Out Four 'Fantastic Four' Character Posters Plus A Banner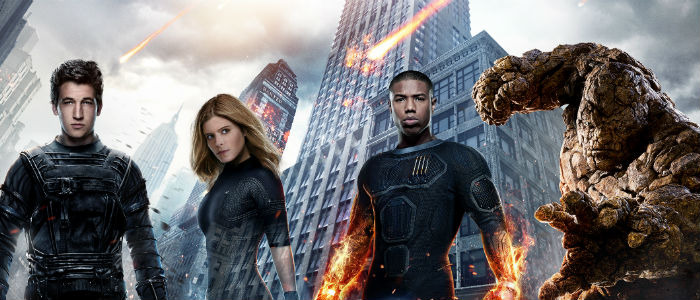 Want your best look yet at all the costumes from Josh Trank's Fantastic Four? Of course you do. They're here courtesy of four character posters as well as a cumulative banner, featuring stars Miles Teller, Kate Mara, Jamie Bell and Michael B. Jordan. The film opens August 7, check out the new Fantastic Four posters below.
Here are the posters along with the banner. Click on each to see them bigger.
Fantastic Four Posters and Banner
Here's my question with these posters. What is shooting down from the sky? Is it a meteor shower? Something more sinister? Are we really looking at another city-gets-destroyed finale? The trailers so far have most definitely focused on a period in the film when the characters don't have their powers, only hinting at what the team is like at full strength. And while we're all obviously curious about that, if Fox can save that reveal for the theater, that would be a huge win for them. After a long period of dormant marketing, I think they're doing a solid job right now at getting fans interested in the film.
Also – this may have been out there already, but the official screenwriting credit for Fantastic Four has been settled on. It's as follows: Jeremy Slater and Simon Kinberg & Josh Trank, based on the Marvel Comic Book by Stan Lee and Jack Kirby.
Fantastic Four opens August 7. It's directed by Josh Trank, and stars Miles Teller, Michael B. Jordan, Kate Mara, Jamie Bell, Toby Kebbell, Reg E. Cathey and Tim Blake Nelson.
FANTASTIC FOUR, a contemporary re-imagining of Marvel's original and longest-running superhero team, centers on four young outsiders who teleport to an alternate and dangerous universe, which alters their physical form in shocking ways. Their lives irrevocably upended, the team must learn to harness their daunting new abilities and work together to save Earth from a former friend turned enemy.