Sequel Bits: 'Zoolander 2', 'Magic Mike XXL', 'Starship Troopers', 'Heroes Reborn', 'Allegiant'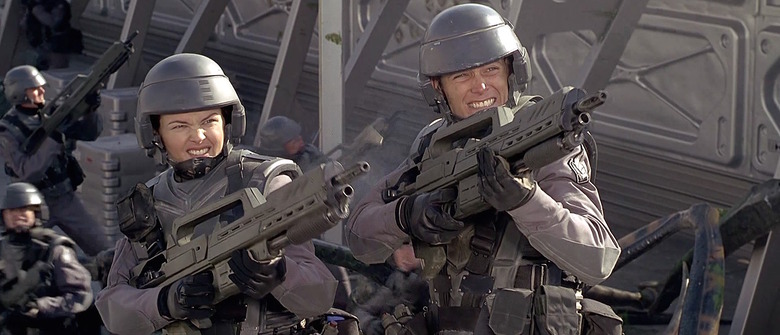 Today's Sequel Bits has a bit of everything: Tons of casting news, some cute set photos, and a bunch of red-hot posters. After the jump:
Lifetime's The Omen sequel Damien moves to A&E
An Absolutely Fabulous movie will shoot this year
Heroes Reborn picks up The 100 and True Blood alums
Jeff Daniels boards the train for the Divergent sequels
Common and Deon Cole line up for Barbershop 3
Starship Troopers could be headed to the small screen
See the photos from the set of Inferno in Venice
Ogle a series of Magic Mike XXL character posters
Justin Bieber will make a cameo in Zoolander 2
Lifetime's The Omen series sequel Damien is moving to A&E, and it's picked up four more episodes along the way. That brings the total number of installments to ten, after Lifetime gave the show a six-episode straight-to-series order last year. Parent company A+E Networks reportedly felt A&E, which already airs the Psycho prequel Bates Motel, was a better fit for the show.
Damien follows the title character (Bradley James), now all grown up and still haunted by his past. The show is expected to air next year with Glen Mazzara serving as showrunner. Barbara Hershey, Omid Abtahi, and Megalyn Echikunwoke also star. [Variety]
***
The long-developing Absolutely Fabulous movie is almost ready to go. Creator and star Jennifer Saunders has revealed that the sequel will shoot later this year. The BBC sitcom originally aired from 1992 to 1995, wrapped up with a two-part finale in 1996, came back from 2001 to 2004, and then aired three specials between 2011 an 2012.
Saunders is still waiting on a budget but expects to shoot this fall. As for the story, she says, "It involves all the main characters and virtually everyone that's ever been in the series, all those characters and we're in London and sometimes we might go to the South of France, I'm hoping." [TheWrap]
***
The cast of Heroes Reborn continues to grow. Toru Uchikado, Eve Harlow (The 100), Pruitt Taylor Vince (True Blood), and Francesca Eastwood (Jersey Boys, and also: yes, as in that Eastwood) have all been set for recurring roles. Character info is being kept under wraps for now. The 13-episode limited series will air on NBC this fall. [IGN, Deadline, TheWrap]
***
Jeff Daniels will tap into his dark side for The Divergent Series: Allegiant – Parts 1 and 2. He's in final negotiations to play David, leader of the Bureau of Genetic Welfare, which created the fractured society seen in the last two movies. Let's hope he has more to do than Octavia Spencer and Naomi Watts did in the last one.Allegiant – Part 1 shoots this May with Robert Schwentke directing, and is scheduled to open May 18, 2016. Allegiant – Part 2 arrives May 24, 2017 and hasn't yet announced a director. [THR]
***
Click through to the next page to see Magic Mike XXL posters, Inferno pics, Zoolander casting announcements, and more.
Common and Deon Cole are lining up to join Ice Cube and Cedric the Entertainer in Barbershop 3. Details on Common's role have not been revealed. Cole will play "Dante, a fixture at the shop who shares his pithy comments on any subject under the sun, even though his cultural references are a few years out of date." Malcolm D. Lee is directing. [Deadline]
***
That new Starship Troopers movie might not be happening after all... because producer Neal H. Moritz might have other plans for the property instead. "We're developing it. We've actually been talking about either doing it as a feature or doing it as a television show," he said. "So, we'll see." [HitFix]
***
Shooting on the Da Vinci Code sequel Inferno is currently underway in Europe. On the production's last day in Venice, director Ron Howard took a few minutes to share some candids of the team, including stars Tom Hanks and Felicity Jones.
About 2 call action Director's monitor – @tomhanks & @FelicityJones #StMark's Square #Venice # Italy 4 #InfernoMovie pic.twitter.com/Hi2F5E29zp

— Ron Howard (@RealRonHoward) April 28, 2015
Last day of shooting in #Venice #Italy for #InfernoMovie with #tomhanks and #felicityjones. pic.twitter.com/Rzhma97Xxm

— Ron Howard (@RealRonHoward) April 29, 2015
Movie Making on the canals of Venice. Not a bad gig is it? @tomhanks @infernothemovie pic.twitter.com/YtTdQn4ZOl

— Ron Howard (@RealRonHoward) April 29, 2015


Inferno arrives in theaters October 14, 2016. [Twitter]
***
The men of Magic Mike XXL show their stuff in a new series of character posters. From left to right, top to bottom, that's returning stars Channing Tatum, Joe Manganiello, Matt Bomer, Adam Rodriguez, and Kevin Nash, and then new stars Donald Glover, Jada Pinkett Smith, and Stephen "tWitch" Boss.
Magic Mike XXL opens July 1. [Twitter]
***
Ben Stiller has made a couple more casting announcements for Zoolander 2. Saturday Night Live star Kyle Mooney will be making an appearance...
So this guy @kylemooney is going to be in #Zoolander2. Cool. I guess he's supposed to be really funny or something. Evs.
A photo posted by Ben Stiller (@benstiller) on
... as will musician / model / noted brat Justin Bieber.
#Zoolander2 @justinbieber A photo posted by Ben Stiller (@benstiller) on
Naturally, Bieber isn't the only famous face making a cameo in Zoolander 2. Benedict Cumberbatch was spotted in Rome, reportedly on his way to shoot his cameo, and Jonah Hill, Kanye West, Kim Kardashian, Cara Delevingne, Naomi Campbell, and Anna Wintour are all rumored to appear as well. Zoolander 2 is slated to open February 12, 2016. [Instagram, Daily Mail]