Adam Wingard To Direct 'Death Note'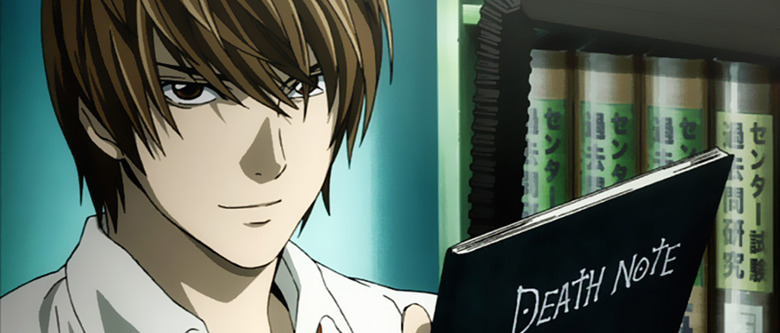 After You're Next and The Guest, Adam Wingard has found his next creepy movie premise. He's signed on to direct Death Note, a live-action feature based on the popular Japanese manga series. At the center of a story is a notebook that causes the death of anyone whose name is written in its pages. More on the Adam Wingard Death Note news after the jump. 
THR reported the news. Wingard is taking over for Shane Black, who was attached as of a few years ago. The most recent draft of the script comes from Jeremy Slater (Fantastic Four).Death Note follows a high school student who comes across a supernatural notebook that allows him to kill anyone in the world simply by writing their name and picturing their face. He decides to use the power to create a world cleansed of evil, and begins to off people he deems unworthy.
Meanwhile, the police have taken notice of the rising body count. A cat-and-mouse game ensues as one particular detective, a mysterious young recluse, begins to chase after the student. In the manga, the entire thing was started by a race of extra-dimensional death gods, who planted the notebook for the student to find.
The original Death Note manga ran in Japan from 2003 to 2006. It inspired an anime series which ran from 2006 to 2007, as well as trio of live-action Japanese-language films released between 2006 and 2008.
The new English-language feature is set up at Warner Bros. The Lego Movie's Roy Lee and Dan Lin are producing, along with Jason Hoffs (producer of Edge of Tomorrow, also based on a Japanese property) and Masi Oka (best known for playing Hiro in Heroes).
In addition to You're Next and The Guest, Wingard is also known for his participation in the horror anthologies V/H/S and ABCs of Death. He'll next direct The Woods, with production slated to get underway this summer. He's also currently on board for I Saw the Devil, a remake of the 2010 Korean revenge thriller.