VOTD: Rush Hour 4 Face/Off 2 With Sean Combs And Byung-Hun Lee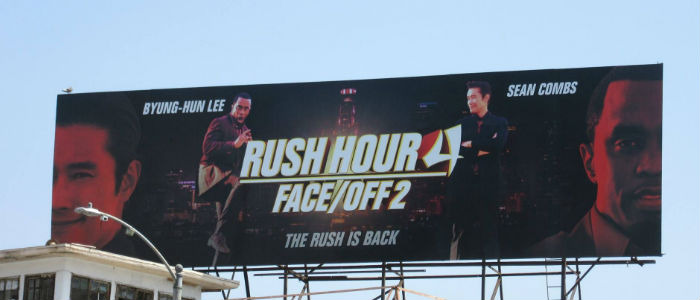 Recently, I was walking on Hollywood Blvd. and saw the above billboard above the street. It was obviously some kind of joke, but there was no hint at the punchline. We know Brett Ratner has been thinking about Rush Hour 4 for a few years, but not with Sean Combs and Byung-Hun Lee. And what's the connection to Face/Off? Could this be an ad? A short film? Turns out, it's a Funny or Die skit.
In Rush Hour 4 Face/Off 2, Combs and Lee are in the Chris Tucker and Jackie Chan roles, but that's not really the joke. It's in lots of weird references to Face/Off where this video finds its humor. This is a  very odd video. Check it out below.
Thanks to Funny or Die.
Rush Hour 4 Face/Off 2 Skit