'Victor Frankenstein' First Look: James McAvoy And Daniel Radcliffe Create A Monster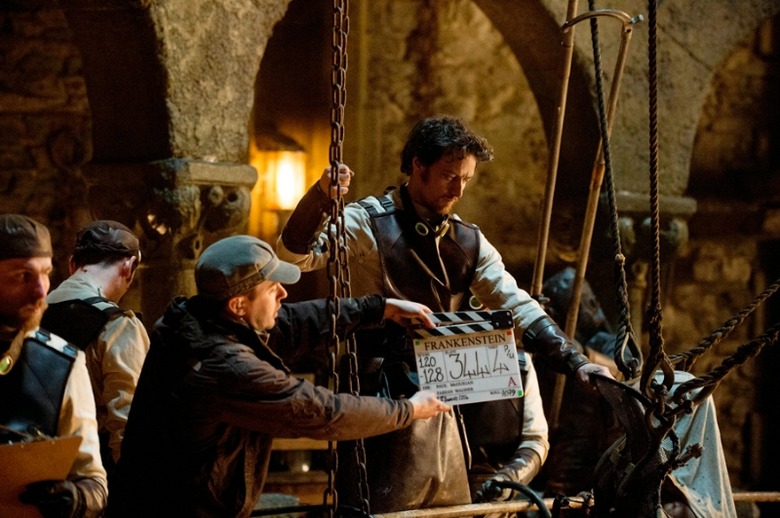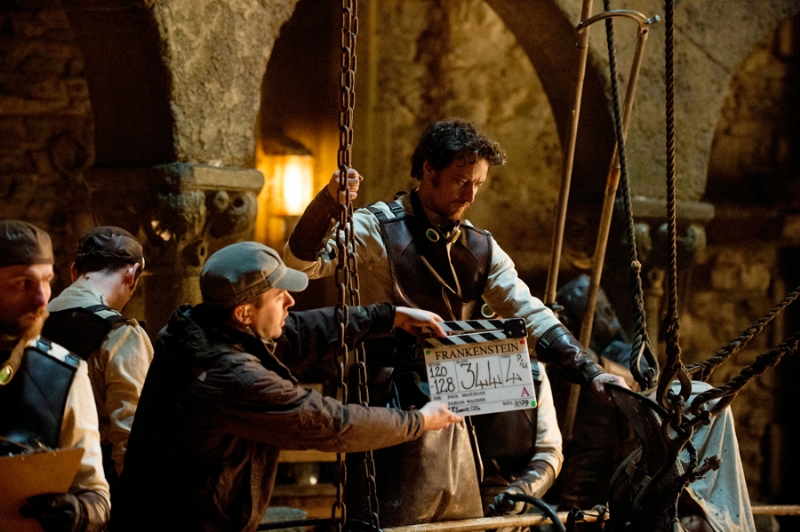 Professor X and Harry Potter will be getting to some seriously screwed up stuff this fall. A pair of Victor Frankenstein first look images reveal the not-so-good doctor (played by James McAvoy) and his sidekick Igor (played by Daniel Radcliffe), whose terrible creation threatens to destroy them both. See the first Victor Frankenstein images after the jump. 
Empire unveiled the Victor Frankenstein first look. In case the clapperboards, wires, and crew members in modern jeans and hoodies didn't tip you off, these aren't stills but behind-the-scenes snaps.
Although Igor is a key element of the Frankenstein mythos, he never appears in Mary Shelley's original novel. Rather, he is an invention of the movie adaptations that came out in the 1930s. Or, within this particular narrative, of Dr. Frankenstein himself. "As much as the monster is his creation, Igor is his creation as well," McAvoy told Empire. "That was quite exciting. It's funny, the script, but also really dark, in a cool way.
But it's Igor who gets to tell his story in this rendition. The script by Max Landis (Chronicle) promises to delve into the faithful assistant's origins and his relationship with med student Victor Von Frankenstein. This Igor certainly doesn't look like the servile, hunchbacked Igors we've seen in films past, but it's probably safe to assume there are some bad times ahead for this troubled young man.
Victor Frankenstein has been in the works for a few years already. Originally Fox had it slated for fall 2014, then early 2015, and now it's set for October 2, 2015. Paul McGuigan (Sherlock) directs, and Jessica Brown Findlay, Andrew Scott, and Mark Gatiss also star.
James McAvoy is Victor Von Frankenstein and Daniel Radcliffe stars as Igor in a unique, never-before-seen twist on Mary Shelley's classic 19th century novel. Told from Igor's perspective, we see the troubled young assistant's dark origins, his redemptive friendship with the young medical student Victor Von Frankenstein, and become eyewitnesses to the emergence of how Frankenstein became the man—and the legend—we know today.