Tom Cruise Circling 'Bob The Musical', Michel Hazanavicius Courted To Direct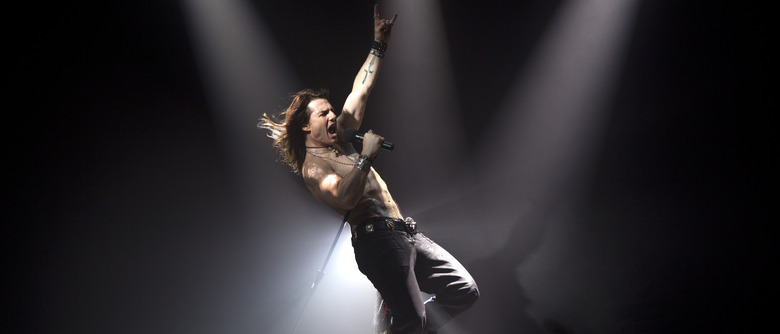 Tom Cruise could follow up his string of action movies with something completely different. The A-lister is reportedly circling the title role in Bob the Musical, a Disney comedy about a guy whose life turns into a musical after he receives a blow to his head. Michel Hazanavicius (The Artist) is being courted to direct. More about the possible Tom Cruise Bob the Musical deal after the jump.TheWrap reports Disney has been eyeing Cruise for a few months, but that he isn't officially attached just yet. A musical would be an unusual move for Cruise, but not an entirely unprecedented one. A couple of years ago he played rock star Stacee Jaxx in the big-screen adaptation of the stage production Rock of Ages (seen above).
The script by Allan Loeb (also from Rock of Ages) follows an ordinary guy suffering from an extraordinary affliction. After getting hit on the head, he suddenly gains the ability to hear the song in everyone's hearts. Bob is initially dismayed by this turn of events, but I'm guessing he comes around eventually.
Bob the Musical has been in development for over a decade. In that time, several creative teams have come and gone. There was an early draft with Mike Bender that Adam Shankman (Rock of Ages) was going to direct, with Marc Shaiman providing music and lyrics. Then Babaloo Mandel and Lowell Ganz did a script for director Mark Waters (Mean Girls). Then it was Matt Fogel writing for Phil Lord and Chris Miller.
Lord and Miller dropped out some time ago, but development on Bob the Musical has kept going. Last year, Loeb signed on to pen the script and Robert Lopez and Kristen Anderson-Lopez (Frozen) to write the music and lyrics.
Hazanavicius is best known for helming The Artist, which won five Academy Awards in 2012 including Best Picture and Best Director. Since then he's re-teamed The Artist star (and his wife) Bérénice Bejo for the wartime drama The Search.
Cruise is coming off of two sci-fi actioners, Edge of Tomorrow and Oblivion. He'll appear later this summer in Mission: Impossible – Rogue Nation, which isn't technically sci-fi but might as well be. Also coming up for him is the Doug Liman thriller Mena.