'Fifty Shades Of Grey' Sequel To Be Written By E.L. James' Husband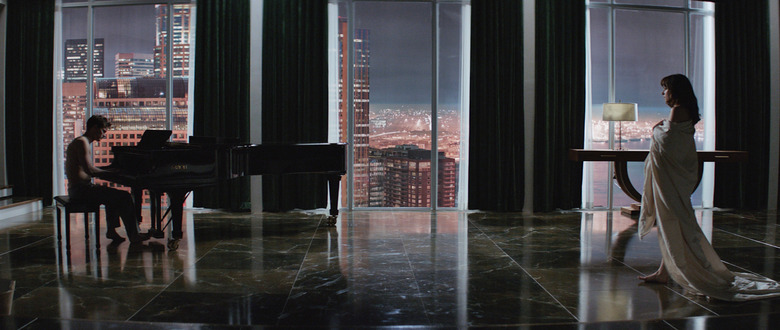 Fifty Shades of Grey made crazy money at home and internationally, but that doesn't mean the creation of a sequel is an easy task. There's already source material, in the form of the novel Fifty Shades Darker, by E.L. James. But the first film's screenwriter and director, Kelly Marcel and Sam Taylor-Johnson, will not return for the second movie. Reportedly, that is in part due to clashes with James. Furthermore, there have been reports that James was lobbying to script the sequel herself.
Now the producers and Universal have a new solution to the 50 Shades sequel script problem. It will be written by Niall Leonard, an author with TV and film experience. He even contributed to the Fifty Shades of Grey script. And he happens to be E.L. James' husband.
THR, in its report, notes that Leonard is the author of the Crusher book series, and has written for UK TV shows Air Force One Is Down andWire in the Blood.
Producer Michael De Luca said, "Niall is an outstanding writer in his own right, with multiple established credits, and we are lucky to have him join Team Fifty."
Given that James was reportedly lobbying to script the sequel, this seems like a pretty obvious ploy to remain in control of the script while still having an established writer take a crack at it. (James has not scripted anything before, and isn't exactly known for the strength of her prose, either. Not that prose ability and screenwriting necessarily intersect.)
Many of the things that made Fifty Shades of Grey work on screen were changes from James' original novel — changes that, in part, she was reportedly not happy about. With this arrangement in place, we can likely expect that the sequel film will stick closer to the book, which could mean a more insane film, for better or worse.