New Muppets TV Show Will Explore Their Personal Lives In 'Office' Style Mockumentary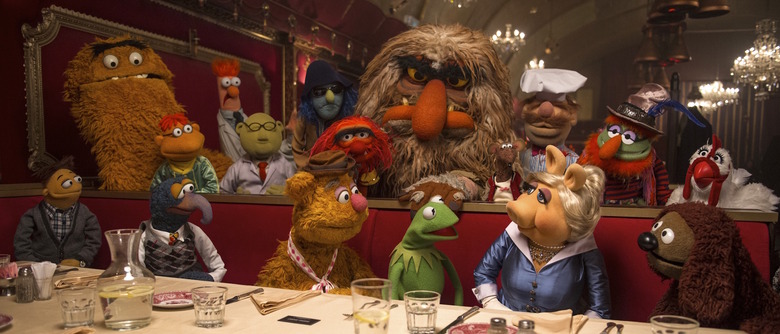 If The Muppets make the transition back to TV, it'll be in a way we've never seen them before. New details have surfaced about the upcoming ABC pilot starring Jim Henson's famous characters and it seems this version will have a more adult feel. It'll be shot as a mock-documentary, like The Office, centered on the behind-the-scenes antics of making a new TV show. Through that, the show will delve into the personal lives of the characters for the first time ever. Read more about the new Muppets TV show below.
Entertainment Weekly broke the news about the new Muppets TV show. Here's the latest logline:
The Muppets return to prime time with a contemporary, documentary-style show that—for the first time ever—will explore the Muppets' personal lives and relationships, both at home and at work, as well as romances, break-ups, achievements, disappointments, wants and desires; a more adult Muppet show, for kids of all ages.
Bill Prady and Bob Kushell will write and executive produce the Muppets TV reboot, with the latter also serving as showrunner. Randall Einhorn is directing the pilot which ABC is currently considering for a direct to series order.
When news first broke about the show, there were clues that it could have this behind-the-scenes structure, but with a more late-night spin like a Larry Sanders Show. These details focus those initial rumors. (Of course, The Muppet Show used the behind-the-scenes structure in its original run, too, but without the focus on characters' lives away from the stage.)
Fans will likely be polarized of the possibility of learning more about the Muppets personal lives. The new films touched a bit on that stuff, particularly Muppets Most Wanted, but this show is supposedly being pitched as closer to a soap opera. Could learning too much about Gonzo or Fozzy ruin the illusion of the characters? Or will people be able to separate anything in this show from the more general interpretations?
At this stage, the new Muppets TV show is nothing more than a pilot idea but you'd have to imagine it'll make it to air.