Exclusive Images From The Official 'Avengers: Age Of Ultron' Art Show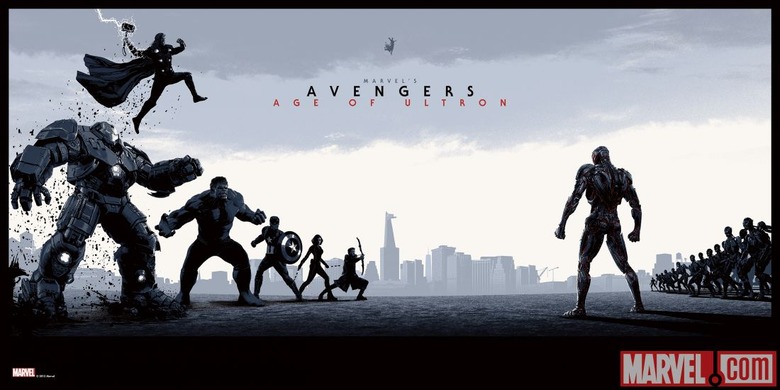 Disney and Marvel have long embraced the pop culture art scene. They've worked with Gallery 1988, Mondo and more to make cool collectibles for their fans based on all their movies. That trend isn't changing with Avengers: Age of Ultron. This time they've teamed up with the Hero Complex Gallery in Los Angeles for an exhibit celebrating the release of the film. Almost 100 different artists are participating in the Age of Ultron art show, which opens April 24, and /Film is happy to exclusively debut 5 of the pieces, as well as feature several more. Check them out below.
The official Avengers: Age of Ultron art show at Hero Complex Gallery, 2020 South Robertson Blvd., Studio D, Los Angeles, CA, opens from 7-10 p.m. April 24 and will remain on display through May 17. Visit www.hcgart.com for more information.
First up, here are our five exclusive reveals. Mouse over each for the artist's name.
And here are a bunch of other pieces in the exhibit courtesy of Hero Complex and Marvel.com
Hero Complex Gallery have announced the biggest pop-culture art event of the year to celebrate the biggest movie of the year! Landing in Los Angeles on Friday, April 24, from 7-10 PM PT, exclusive artwork from nearly 100 artists, including originals, sculptures, mega-metals, and more, all inspired by Marvel's "Avengers: Age of Ultron," just one week prior to the film's U.S. debut on May 1