New Details Emerge On The Coen Brothers' Not-Quite Musical Comedy 'Hail, Caesar!'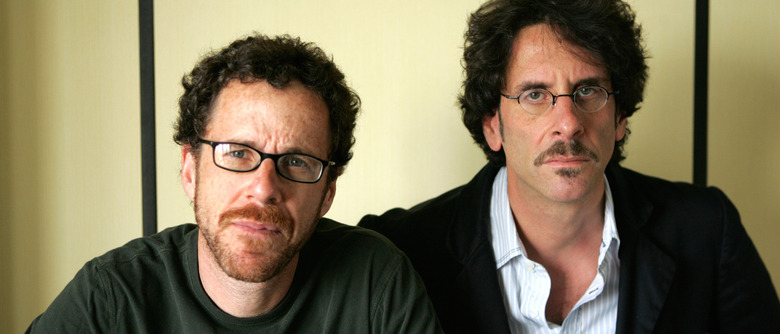 New details have emerged on the new film from Joel and Ethan Coen, Hail, Caesar!, thanks to two men who work with the brothers almost as often as the brothers work with each other. Composer Carter Burwell and sound mixer Skip Lievsay reveal that the Hollywood-set film has quite a lot of musical comedy in it, though it isn't a musical comedy per se.
Find out just what they mean by that by reading the Hail Caesar musical comedy comments after the jump. 
Burwell and Lievsay dished the details on Hail, Caesar! during a Tribeca Film Festival event, as reported by THR. Set in the late days of Hollywood's Golden Age, the film follows a studio fixer named Eddie Mannix through a single day, in which there seems to be no end of problems to fix.
According to Burwell, "It's a musical comedy that takes place on a Hollywood backlot, so you pass through all these pictures that are in production there." The musical sequences will differ with each film in progress, but one of them, Burwell revealed, is "a tap-dance water number."
Lest you think it's all fun and games, though, Burwell quickly backtracked on the "musical comedy" description:
I wouldn't actually call it a 'musical comedy' — there are movies within the movie, and those movies might have comedic music, but the movie we're making is actually not comical. I haven't written the music yet, but I'm quite certain it's actually going to be quite the opposite. It's going to be rather serious, and it's about faith. It's not about the music.
It's actually pretty complicated, musically — you'll see, the themes that I'm writing for the movie have to relate to the themes of the movies within the movie. So it's actually this rug with all these threads going in and out. But I haven't written it yet!
Basically it sounds like a combination of funny and serious, which makes perfect sense for the Coen Brothers. Their comedies always have some darkness to them, and their dramas are always good for a few laughs.
Burwell and Lievsay have a very long relationship with the Coens. Burwell has composed the score for every one of their movies besides Inside Llewyn Davis and O Brother, Where Art Thou?, and Lievsay has worked on every one of their movies, period.
Initially, Burwell joked that it was because the filmmakers "just hate meeting new people," but got a little more serious later on. "They write knowing the importance of sound and music, and a lot of people don't," he said. "They feel free to have minutes with no dialogue."
Hail, Caesar! stars Josh Brolin, George Clooney, Channing Tatum, Ralph Fiennes, Tilda Swinton, Scarlett Johnasson, and Jonah Hill. It arrives February 5, 2016.