'Mr Holmes' Trailer: Ian McKellen Puts A New Spin On Sherlock Holmes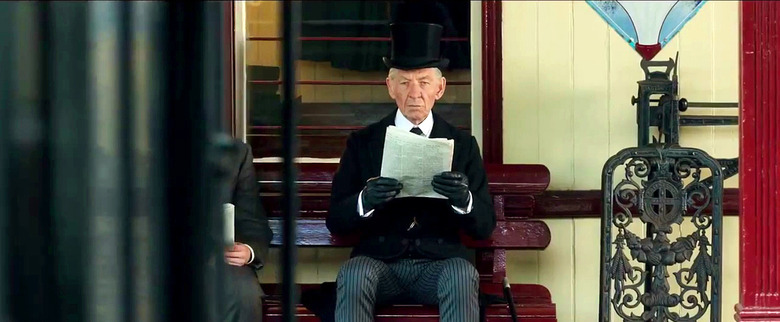 Between BBC's Sherlock, CBS' Elementary, and Warner Bros.' ongoing film series starring Robert Downey Jr., we're practically drowning in Sherlock Holmes adaptations at the moment. The last thing we need is another one. Or at least that's what we would have said before seeing the excellent trailer for Mr. Holmes.
In the new film by Bill Condon, Ian McKellen plays the classic character near the end of his life. Though he's now living out a peaceful retirement among his beloved bees, Sherlock remains haunted by the circumstances of the case that put him into exile. Watch the Mr Holmes trailer after the jump. 
Here's a Sherlock Holmes that goes beyond the usual "eccentric a**hole genius" mold to offer something genuinely new. Sherlock toys with death on a pretty regular basis, thanks to the nature of his work and the demands of popular storytelling, but it's not often we see him pondering the natural end of a long, eventful life. Plus he's played by the great Ian McKellen, and we'll see that guy in just about anything.
Based upon the novel A Slight Trick of the Mind by Mitch Cullin, Mr. Holmes opens June 19 in the U.K. and July 17 in the U.S.
MR. HOLMES is a new twist on the world's most famous detective. 1947, an aging Sherlock Holmes returns from a journey to Japan, where, in search of a rare plant with powerful restorative qualities, he has witnessed the devastation of nuclear warfare. Now, in his remote seaside farmhouse, Holmes faces the end of his days tending to his bees, with only the company of his housekeeper and her young son, Roger. Grappling with the diminishing powers of his mind, Holmes comes to rely upon the boy as he revisits the circumstances of the unsolved case that forced him into retirement, and searches for answers to the mysteries of life and love – before it's too late.