'Furious 7' Is Fastest Film Ever To Cross $1 Billion At The Box Office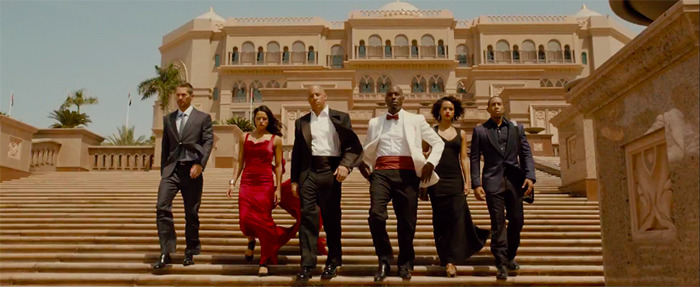 Furious 7 is the first entry in the series not to have "fast" in the title, which is ironic because it's turning out to be the fastest of them all. The recent sequel has hit $1 billion at the box office after just 17 days in theaters, making it the quickest film ever to hit that mark — not to mention the only Universal film ever to do so in its original run.
More on the Furious 7 box office after the jump. 
Universal trumpeted the achievement in a blog post. "I am incredibly proud of the motion picture team at Universal, the cast and filmmakers of the FAST & FURIOUS for all they have done to take our original idea and evolve it into a huge, global, blockbuster franchise," wrote NBCUniversal vice chairman Ron Meyer.
Previously, Universal's Jurassic Park collected just over $1 billion at the box office. But that's combining both its original run in 1993 and its 3D re-release in 2013. Furious 7 is the first Universal title to do so in its first time around the track.
The studio adds that Furious 7 is also the second-biggest worldwide debut of all time (after Harry Potter and the Deathly Hallows: Part 2); the biggest opening day in China (beating out Transformers: Age of Extinction); and the best ever April or Easter weekend.
Before Furious 7, the fastest climb to $1 billion was 19 days, set by Avatar (2009) and tied by Harry Potter and the Deathly Hallows: Part 2 (2011) and The Avengers (2012). It might have a hard time keeping that record with Avengers: Age of Ultron and Star Wars: The Force Awakens on the horizon, but it's an impressive achievement nonetheless.
Currently, Furious 7 sits at #20 on the all-time worldwide box office chart, just under The Dark Knight. THR estimates the film could take up to $1.3 or $1.4 billion by the end of its run. That would put it on par with Frozen (#5 with $1.2 billion) and Harry Potter and the Deathly Hallows: Part 2 (#4 with $1.3 billion).
Not bad for a franchise that started out in 2001 as a humble Point Break retread.