'Dope' Trailer: A Slippery Slope Has Nothing To Do With Skiing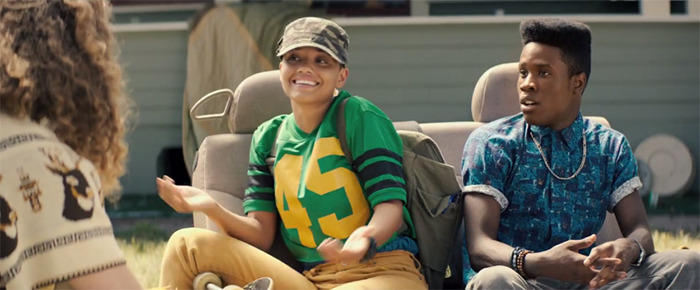 The first teaser trailer for Dope was a blast of images and internet-ready gags, but it didn't do much to tell anyone about the film itself. This full Dope trailer is much more oriented towards showing off just how jam-packed this movie is — it's the story of three high-school friends trying to survive their Inglewood neighborhood and get into college. But things get complicated for main guy Malcom (played wonderfully by Shameik Moore) thanks to a girl (Zoe Kravitz), a dealer (A$AP Rocky), some drugs, and a whole bunch of other potential issues. Check out the trailer below.
Dope opens on June 19. Trailer via Open Road. The film stars Shameik Moore, Tony Revolori, Kiersey Clemons, Blake Anderson, Zoe Kravitz, A$AP Rocky, Chanel Iman, and Quincy Brown, and features four new original songs by Pharrell Williams.
The hit movie out of the Sundance Film Festival, DOPE tells the story of Malcolm (Shameik Moore) who is carefully surviving life in a tough neighborhood in Los Angeles. A chance invitation to an underground party leads him into an adventure that could allow him to go from being a geek, to being dope, to ultimately being himself. Directed by Rick Famuyiwa, Produced by Forest Whitaker, Executive Produced by Pharrell Williams and Co-Executive Produced by Sean Combs.