'Star Wars: The Force Awakens' Super Trailer Combines All The Footage So Far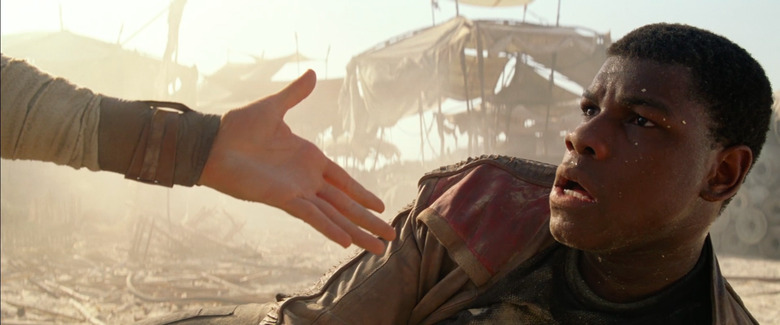 The Star Wars: The Force Awakens trailer that dropped yesterday had a lot of great stuff that the first one didn't. Han and Chewie, for example. A melted Darth Vader helmet. Actual interactions between characters. On the other hand, it had a lot less of that adorable scene-stealer known as BB-8. What's a fan to do if they want it all?
Enter these fan-made edits of the Star Wars: The Force Awakens trailer, which combine footage from both trailers into one extended "super trailer." See the Star Wars 7 super trailer after the jump. 
We have a couple of different takes on the Force Awakens super trailer. One is this one from Adam Kontras, which weaves together scenes from both teasers. "I recognized that the second teaser had several extensions of scenes we saw in the first teaser... so it seemed only right to combine them," he writes.
Then there's this one from Kyle Bailey, which basically just stitches the trailers together back-to-back. Notably missing is the Millennium Falcon scene from the end of the first teaser, "because it clashes too much with the beginning of the second, and also because it just fits better in my personal opinion," he explains.
The "super trailers" are just rearranged versions of the same scenes we've seen a million times already, so they don't really offer us any new information. Even so, seeing them mashed together like this makes it feel like we're getting a more expansive view of J.J. Abrams' new Star Wars saga. And they let us stay in that world just a little while longer before that title card yanks us back out of it.
For a rundown of what exactly the new Star Wars: The Force Awakens trailer tell us, check out our in-depth analyses here and here. To brush up on everything we learned from the earlier Star Wars: The Force Awakens trailer, see our detailed breakdown here.
Star Wars: The Force Awakens lands in theaters December 18.